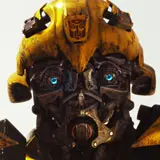 I've decided to play catch-up with Transformers: Revenge of the Fallen imagery today after receiving a couple brand new ones in spiffy high resolution.
Combining the new images with ones released over the past few days brings the grand total of high-res Transformers: Revenge of the Fallen images below to 16. Click on any one below to view the much larger version.
The new images include a shot of Sam looking at the spot where The Doctor will interrogate him; a couple heroic shots of Bumblebee; and Optimus on the battlefield, sword in hand, doing battle with Decepticons Megatron, Starscream and (presumably) Blackout.
If that is not enough incentive, included for good measure are super-sized versions of Megan Fox and Isabel Lucas. 'Nuff said.
Transformers: Revenge of the Fallen will be in theaters and IMAX on June 24. The final confirmed rating is PG-13 for "intense sequences of sci-fi action violence, language, some crude and sexual material, and brief drug material."