Teenage Mutant Ninja Turtles: Out Of The Shadows Review: Finally, A Good TMNT Movie!
It's never been easy being a Turtle fan. After an awful first, but surprisingly financially successful, outing in 2014's Teenage Mutant Ninja Turtles, Paramount and Nickelodeon went back to the drawing board, finding a new director in Dave Green (Earth to Echo), and bringing on some new cast members, and for the first time since the 1990 film, fans have been given what boils down to the best TMNT movie to date, in Teenage Mutant Ninja Turtles: Out of the Shadows.
The story picks up a few years after the 2014 movie. The turtles: Leo, Raph, Donnie, and Mikey are still protecting New York — but doing so in secret. Everything they do, up to and including taking in a Knicks game, is done from the shadows. When a brilliant physicist named Baxter Stockman (Tyler Perry) begins making waves with his company T.C.R.I., April O'Neal (Megan Fox) investigates and uncovers a plot that involves Shredder (Brian Tee), who has been incarcerated since the events of the first film. Stockman seeks to break Shredder out of prison, and the turtles must spring into action to prevent his escape.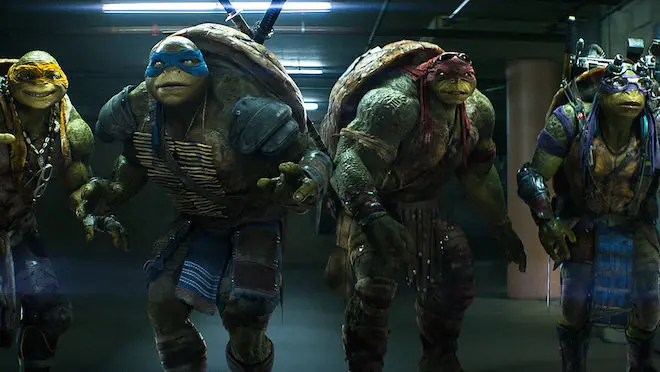 The prisoner transport that is moving Shredder to a high-security facility is manned by a young hockey fan named Casey Jones (Stephen Amell), and locked up with Shredder in the back are two low level thugs, Bebop (Gary Anthony Williams) and Rocksteady (the WWE's Stephen "Sheamus" Farrelly). The foot clan attacks the transport, and the turtles show up in their modified garbage truck to stop them, but ultimately, Stockman is able to free Shredder by using trans-dimensional teleportation.
Unfortunately, the teleportation zaps Shredder to another world where he meets the nefarious Krang (voiced by Brad Garrett), who seeks to take over earth and Krang recruits Shredder to help him. Krang gives his new partner the key to building a mutant army, and tells him he needs to collect three parts of a device so that Krang and his war machines can take over. He then sends Shredder back to earth, where the ninja master quickly uses his new toy to turn Bebop and Rocksteady into a warthog and rhino.
As you can see, Teenage Mutant Ninja Turtles: Out of the Shadows leans much more on the cartoon side of the TMNT lore. Shredder seeks to collect the devices, April and Casey team up to learn more about the purple ooze that created Bebop and Rocksteady, and the turtles have to try and stop their enemy from achieving his goals. There are a few subplots — one dealing with the ooze turning the turtles human, giving the brothers a way to come out of the shadows (see what they did there?) — and of course, the brothers' angst with having to remain secret and not revel in the glory as the city's saviors — that role being carried by Vernon Fenwick (Will Arnett) as part of the deal made at the end of the first film.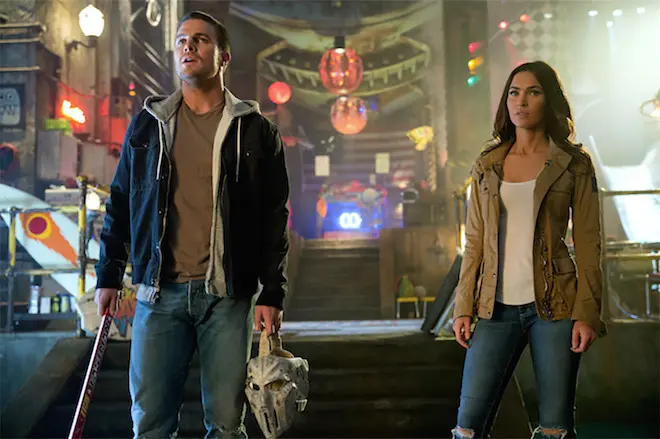 Once again, the turtles themselves are near-perfect in how they interact with each other and play their roles in the group, and the addition of Bebop and Rocksteady adds humor to the film. Amell's Casey Jones doesn't have much to do, and he's not as much the vigilante as in previous incarnations as he is a security guard with aspirations to become a cop, so he acts like a detective in seeking out Bebop and Rocksteady. Fox's April is less the focal point here, serving as an ally, which works incredibly well, and Krang in all his glory — including his Technodrome, with its evil laser eyeball on top — is very welcome, as this is the first time he's been attempted in the now five live action TMNT movies.
The script by Josh Appelbaum and Andre Nemec has the action leaving New York for some shenanigans in a Brazilian rainforest, and the final battle in the skies above New York are as epic as they should be. It's really hard to believe that these are the same writers of the 2014 film. There are even nods and references to the films that came before it, with some subtle hints at Vanilla Ice, and the song played over the closing credits is his "Go Ninja, Go Ninja" from 1991's Secret of the Ooze.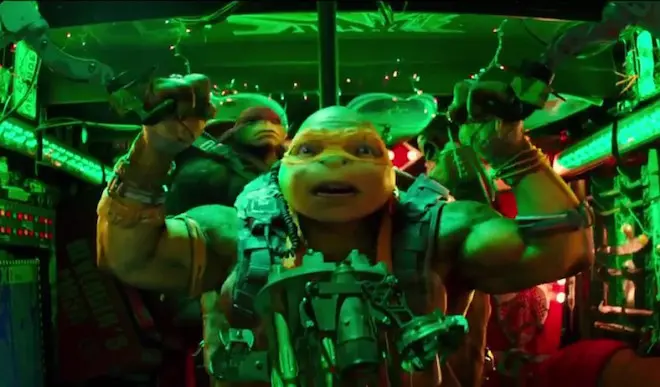 Teenage Mutant Ninja Turtles: Out of the Shadows is not a perfect film by any stretch of the imagination, but it is a fun film that calls back to the cartoon series of the 1980s and '90s, and it serves as a course-correct from the disastrous 2014 film. This is as close as fans have ever come to seeing the turtles done right, and serves as a foundation for more adventures in the future. The humor and action was perfect and the spectacle of seeing a talking brain-like monster in a human-shaped mech suit trying to take over the world is in describable and must be seen.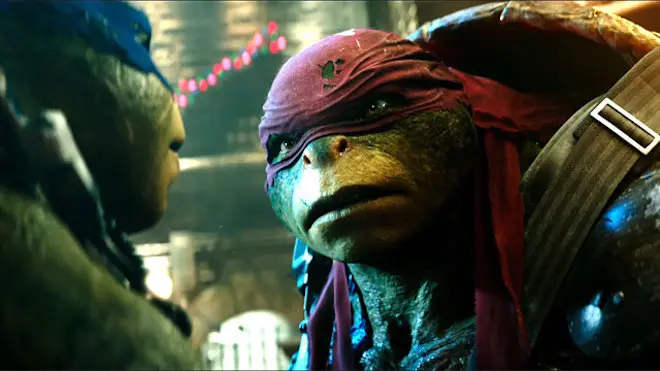 Long time fans will enjoy Teenage Mutant Ninja Turtles: Out of the Shadows, and some may even love it. I truly enjoyed it and I would admit to loving it. This is a fun film that works on so very many levels, and now I can't personally wait to see what comes next now that Krang has been introduced. If the box office holds up, we may see in a few years, but for now, we finally have a good TMNT movie. Cowabunga!
Teenage Mutant Ninja Turtles: Out of the Shadows is rated PG-13 and is in theaters now.
TheHDRoom may be paid a small commission for any services or products ordered through select links on this page.