'Hotel Artemis' Review: Is There A Doctor In The House?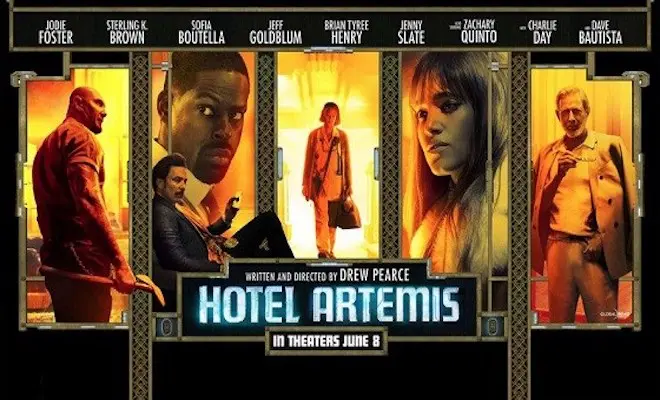 At first glance, the new film Hotel Artemis looked like it was going to be an ultra violent rip off of John Wick, but underneath its glossy, ultra-cool nourish surface beats the heart of something original. Stacked with a solid cast, including Jodie Foster, in a return to acting that no one saw coming, the film is less like John Wick and more in tune with recent thrillers like The Purge series.
Hotel Artemis is the story of an aging nurse named Mrs. Thomas (Foster), who simply goes by Nurse and runs a clinic for the criminal underworld out of an old hotel in downtown Los Angeles. The Nurse is joined in the endeavor by her orderly, Everest (Dave Bautista), who not only serves as her assistant and protector, but also the building's handyman. When high class criminals need medical attention, they go to the Artemis. There is a set of strict house rules for the hotel, and members — and you must be a member to enter — have to follow the rules or they lose their memberships or worse.
On this particular night, some 10 years into our future, LA is rioting. A corporation has bought up all the water rights (*cough* Nestle *cough*) and only the affluent can afford to buy it. This causes civil unrest, and the police, another private entity funded by a corporation, have their hands full. A crime gang led by a pair of brothers (Sterling K. Brown and Brian Tyree Henry) uses the riots as a distraction to rob a bank and when the job goes bad, and bullets start to fly, the brothers seek medical care at the Artemis. This sets off a series of events that will make a bad night worse, and the Nurse will be forced to make decisions that puts her and Hotel Artemis itself at great risk.
The supporting cast is made up of a who's who of stars, including Charlie Day as a shady arms dealer, Sofia Boutella as a high priced assassin, and Jeff Goldblum as the Artemis' benefactor and LA crime lord, known simply as Dennis, The Wolf King. Jenny Slate, Kenneth Choi, and Zachary Quinto round out the ensemble. Each character goes by their code name, given to them based on the room they get at the hotel, which adds to the coolness factor.
Writer-director Drew Pearce (writer of Iron Man 3, Mission: Impossible – Rogue Nation) knows what he's doing in his world building, as each piece of the puzzle is laid out with just enough exposition to tell a cohesive story, and when the third act erupts into non-stop violence, the audience welcomes it. The use of light and color in Hotel Artemis helps give the film a polish and look that will surely make this film a cult classic, no matter what happens at the box office in the next couple of weeks.
It was also nice seeing Jodie Foster not only act again, but take on a fun role like the Nurse. This is a far cry from her Oscar days, and that is perfectly fine. She commands the audiences' attention in every scene that she's in, and she carries the film not because she has to, but because she does it with such ease. Bautista continues to grow as an actor, here using a slight latino accent, and he fills the screen with his size, while still conveying a soft, caring persona. Sterling K. Brown fits in well as the third pillar of this triad, as his unyielding love-hate of his younger brother forces him to make decisions, and those decisions drive his character throughout the film.
Hotel Artemis has some pacing issues, especially in the second act, as the cool factor of the first act begins to wane. But staying with the story rewards with the violent third act, leaving the audience feeling satisfied as the credits begin to roll.
Hotel Artemis is so much more than a riff on a film like John Wick. The futuristic elements push it closer to sci-fi, and the strong cast, led by Foster, help to create a fun, exciting, and cool summer movie that entertains. There is a possibility of a franchise here, as the Artemis isn't the only clinic that caters to the underworld, as we learn, and maybe, just maybe, Drew Pearce will get a chance to explore other aspects of this unique world that he's created. Only time will tell.
Hotel Artemis is rated R and is in theaters now.
TheHDRoom may be paid a small commission for any services or products ordered through select links on this page.