Mission: Impossible – Rogue Nation Review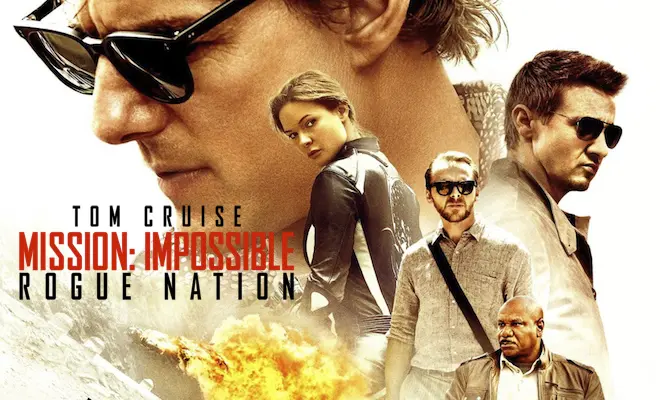 There's just something great about the Mission: Impossible film franchise. Since 1996, Tom Cruise has starred as Ethan Hunt, and done his absolute best (he's also a producer and driving force behind the series) to create an American James Bond. And that has never been more evident than in the latest installment, Mission: Impossible – Rogue Nation.
Picking up where 2011's Ghost Protocol left off, Hunt (Cruise) and his team, Luther (Ving Rhames), Brent (Jeremy Renner), and Benji (Simon Pegg) are working behind the scenes to ensure the world is safe. But unfortunately, their global footprints have created two very big messes: one, in the guise of the CIA, led by Alan Hunley (Alec Baldwin) who wants congress to shut down the IMF and for the CIA to absorb their assets, and two in the form of a group of disavowed former agents and spies called the Syndicate, who have banded together to become, as Benji so eloquently calls it, the "anti-IMF."
This "Rogue Nation" of highly-trained spies and agents work to create chaos by violently removing heads of state, pulling off terrorist events, and working to bankrupt the economies of the world's largest nations. Never before has Hunt and the IMF faced such terrible odds, and when the U.S. government pulls the plug, Hunt is left to work alone, in the shadows, to find and stop the Syndicate and their mysterious leader.
Tom Cruise — in almost 20 years of playing the character of Ethan Hunt — has never seemed more at ease in the role. Here, with so much on the line, Hunt is forced to trust a woman, Ilsa Faust (Rebecca Ferguson) who he knows works for, at worst, the Syndicate, or at best, the British version of IMF, and with Hunley and the CIA on his tail, who he can trust plays a huge role here.
Sean Harris plays Solomon Lane, the leader of the Syndicate, and other than Philip Seymour Hoffman's stellar turn as the Owen Davian in 2006's Mission: Impossible III, Harris' Lane is the best villain this series has offered.
The true breakout here is Rebecca Ferguson's Ilsa. I wasn't familiar with Ferguson before, but I was completely under her spell here. When writer/director Christopher McQuarrie's script needed her to be sexy, she nailed it. When she needed to be a badass fighter, she nailed it. When she needed to be a spy, or ride a motorcycle, or be conflicted with her allegiance, yes, again she nailed it. All of it. This is my favorite performance of any actor or actress in any of the Mission: Impossible films. She is definitely on my radar now. Simon Pegg's Benji continues to play comic relief and it's always nice to see Ving Rhames' Luther in these films. Renner's Brandt still feels like the odd man out, and Baldwin's Hunley is the right mix of bunghole and bureaucrat.
Acting aside, the script is by far one of the best of any film this summer. McQuarrie (Usual Suspects, Jack Reacher, Edge of Tomorrow) has layered the story without going too far over the top. His Syndicate makes since in this world, and he moves the IMF team around the globe in a way that drives the story, not the other way around. A Vienna opera scene in the second act is one of the best things I've watched all year. It was full of excellent pacing, heart-pounding excitement, and a thrilling assassination attempt, all set to the powerful sounds of an opera. Poetry is in full motion here, and this scene alone is worth the price of admission.
It wouldn't be a Mission: Impossible film without a ridiculous "impossible" break-in sequence, and Rogue Nation delivers — twice. The first on the outside of a transport plane, which opens the movie, and the second in a computer system deep in a water-cooled tank. Both sequences are amazing and look great on large format screens.
Tom Cruise may have a maelstrom of controversy in his personal life, but Mission: Impossible – Rogue Nation continues to show why he is one of the finest actors working today. This is a film series that I hope goes on and on, and even after Ethan Hunt finally hangs up his harnesses, his rubber masks, and his incessant running, I would love to see it continue with new members and new situations. But until that time comes, we have Mission: Impossible – Rogue Nation and Tom Cruise, and both together are pure gold.
Mission: Impossible – Rogue Nation is rated PG-13 and is in theaters now.
TheHDRoom may be paid a small commission for any services or products ordered through select links on this page.