The teen comedy/drama Edge of Seventeen is currently in theaters, and we recently sat down and talked with one of its stars, Haley Lu Richardson. Richardson, 21, is a trained dancer from Phoenix, who moved to Los Angeles and became an actress at 16. While Edge of Seventeen is arguably her biggest film to date, that is set to change as she stars next in M. Night Shyamalan's Split opposite James McAvoy.
The charming and wildly talented actress and dancer stars as Krista, the best friend of the film's lead, Nadine (played by Hailee Steinfeld). It is the falling out between Krista and Nadine that serves as the catalyst for most of the troubles that befall Nadine through her funny, poignant, and sometimes uncomfortable journey.
In fact, the script for Edge of Seventeen, written by Kelly Fremon Craig (who also directs), is incredibly sharp and witty, and the dialogue feels incredibly realistic. Richardson was asked if that was all Craig, or if the cast had any input on, or room to improv, some of the great lines and dialogue exchanges.
"Kelly, the writer and director," Richardson began, "she literally spent a big chunk of time going around to high schools and just like interviewing kids in high schools and observing kids, because even though she went to high school, things have changed, it's 2016, she really wanted to capture this generation and how things actually are, so she spent a lot of time doing that. Literally sitting there and watching all the kids interact at lunch.
"There's actually this one scene where Hailey is walking, after our little friend breakup, she's like walking through the cafeteria, she just like looks around there's this wide shot of her just looking around the cafeteria. Kids are sitting at tables, it just looks like very real. And I appreciate that she spent the time and did that.
"We had two weeks of rehearsal time, where I literally just spent time with Hailey and we just did our scenes and Kelly was super open to improvising in those rehearsals and like improvising what happens before the scenes and after, not being stuck to the page, to really figure out what's going on in the scene and how people actually say that. I didn't do so much improving actually on the day on set, but all the work we did in the rehearsal period kind of changed, you could see the scenes like change a little bit of like how we would actually do it."
When asked about the state of the American teenager in 2016, and how she related to the characters and how it differed from when she was in high school — which wasn't all that long ago. Richardson was candid in her response.
"Honestly, it's really funny, because I've been acting for five years, since I was 16, and since then I have literally just played high school kids, like the whole time," Haley Lu explains. "I feel like I'm constantly forced to go into that whole mind space with all those memories, reliving that forever. So yeah, I definitely could relate to all the characters.
"And when you're reading a script as an actor, knowing that you're possibly going to be able to play that character and bring her to life, you automatically are reading the script and trying to figure out what connections you have to that character and how you can relate to them, so I think what I really do most with this movie and with Krista is the friendship between Krista and Nadine, because even when everything goes down, it's not like either of them are bad people, you know, they both are just in their friendship before everything went down, I feel like a real bond, like a selfless friendship, I feel like I have in my life and I've had in high school. Plus all the stupid drama," she says, laughing.
Adolescence and the struggles of teens both socially and internally plays a big role in Edge of Seventeen. Haley Lu explained how these different themes translated from the film to real life.
"Hmm. I feel like it's just like showing what this girl's life is like and this is something you can relate to, and everyone I kind of feel like takes something a little bit different from it," she explains. "Like, my best friend called me after she saw it, she saw it at this little friend-and-family screening I got to have, and she was like telling me after how, what she got was sometimes you have to give people space. To like figure themselves out. You can't just hash it out and it will all be good, sometimes you need space for people to wake up and see the big picture.
"What I really get form it is sometimes, and I think Nadine's character is all about this, like what her journey is, sometimes I think that everyone is out to get us, and everyone else is the bad guy, but really when we take a second and reflect on what is going on in our head, we are kind of our own worst enemy, and we are the one who is choosing to be insecure and choosing not to open up to people and put this wall up. And I think, as the movie she goes through all these really tough blows to be able to be in the most vulnerable spot where she realizes maybe no one is out to get me, maybe I'm just making everything way harder than I need it to be."
Edge of Seventeen also packs some Hollywood star power, with Woody Harrelson and Kyra Sedgwick playing the adults in the film, and veteran award-winning producer James L. Brooks making things happen behind the scenes. Haley Lu tells us what it was like working with such venerated professionals.
"You mean James Brooks and Woody Harrelson?" she asks, laughing. "Yeah, oh yeah I was, because I really, I feel like, this is the chronological order of how things go, I feel like every movie I've done has become like a little bit bigger scale with bigger actors, this was definitely, my character was cast later, I think, than most of the other characters.
"Most of the other characters were cast by the time they auditioned me. Which was cool for me, because sometimes when you audition for a movie you have no idea who you're going to be acting opposite, and you're like 'I hope they're good,' but I got to see like who was already cast and what producers were working on it. Yeah, I was like very intimidated but also equally or more so excited to get the opportunity to learn from them."
Starring in a teen comedy can be a make or break thing for a young actress. Just by doing their job, they are inadvertently giving voice to a generation. We asked Haley Lu what her favorite teen movies are, and if they inspired her life in any way.
"Honestly, people have been asking that question a lot," she reveals, "and I keep saying She's the Man with Amanda Bynes. Did you see that one? I know it's a lame answer, but I really love that movie. I think I cracked up more times during that movie than I have ever, and whenever I have a bloody nose I use a tampon to sop it all up. Honestly, I love that movie.
"Obviously, I love the Breakfast Club and Ferris Bueller's Day Off, I feel like there's just stupid ones I like even more, Mean Girls I really liked."
Haley Lu Richardson is a trained dancer, but has yet to really be able to show that off in a project. Will that be changing anytime soon?
"Honestly, if you know someone who wants to make a dance movie, that's my dream," Richardson said. I feel like you see dance so much on TV, there's Step Up movies, ballet shows, but I feel like the story of training a contemporary dancer hasn't been told yet, and I'd really like to make that happen some time.
"And it has to happen like in the next 10 years, before I'm 35 or I can't dance anymore. That's my goal, I'm still dancing all the time. I have a few injuries, I have feet problems, knee problems. That (a dance movie) will happen, I'm telling you."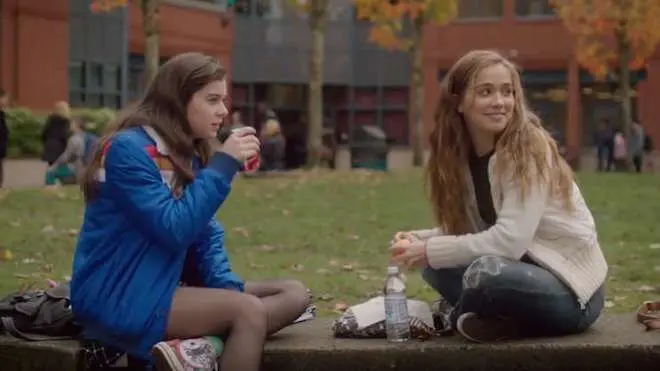 On top of acting and dancing, Haley Lu is also an entrepreneur, as she has created Hooked By Haley Lu, a line of crocheted fashion accessories sold in Southern California and online. We asked her about her business and her crocheted pieces, and if she ever gets to use her own designed accessories in her films.
"Ok, yeah, there's a scene in Edge, it's so quick," she reveals. "When we go the party, and I start playing beer pong, I take off my jacket and I'm wearing one of the tops I crocheted. I'm really proud of that, I'm almost prouder of that than I am of my performance in the movie," she admits, laughing.
"I always try to wear a hat or something. In the last movie I did I'm literally sitting on the couch crocheting. It's something that I do that I feel no pressure with, which is a really good thing to have in a world where there's so much pressure, it kind of feels like therapy. My mom taught me to crochet when I was eight, and I've just been doing it ever since and coming up with patterns and different designs and everything. It's something I do just creatively because I have fun and I don't feel any pressure, it makes me excited to do it. I sell it on Etsy, I get a couple orders now and then. But yeah, I want to grow that at some point."
Haley Lu's next big project is M. Night Shyamalan's Split. We asked her what it was like working with a director with his reputation for twists and turns.
"Night, first of all, is like the most specific director that I've ever worked with," Richardson said. "It's really interesting because I kind of realized while I was working with him, like 'why does this feel so different?' And then I realize all of the other directors that I have done films with have been first-time directors. I literally have never worked with a director, with TV I have, but the intimacy of doing a movie with someone for like two months nonstop and Night is so in control of all the movies he's done, and it has such a specific tone about all his things, so he was very specific, which was different, but obviously really easy to trust him and go along with his vision because he knows what he's doing.
"And the movie, I just saw it last month, it's soooo twisted, um so, yeah, twisted. James McAvoy is great in it, I think it's one of the best male performances I have seen in a while. Like he's really good. So if you want to see the movie for any reason, it's him. And working with him, there were times when I would be off camera, or there to say one line, and I'd look at my friend and we'd have tears and sobbing and we'd have goosebumps and we were so affected by what he was doing."
Getting back to Edge of Seventeen, we asked Haley Lu about friendships and the unspoken rules that friends share. It is the breaking of one of these rules that the entire film builds upon. Would Richardson ever "betray" a friend like Krista does in the film?
"That's a tough one," she admits. "To this day, I don't know if it's like not kosher or friendship code, girl code, to do that. I know there's obvious things like dating an ex-boyfriend, you don't do, right? But like dating a best friend's sibling, it's like kind of on the line. And I feel like Krista, I went into this, playing the role, and after talking to Kelly and finding out I got the part, we both were on the same page that we didn't want to make Krista the stereotypical villain, that like ruins the protagonist's life. You know, we didn't want to make her that, she had reasons for what she did, and also she's not a bad person, she's not doing anything that bad, she's been such a selfless friend for so long, she realizes she could possibly have this really great connection with this guy, it's like you kind of have to do something for yourself at some point.
"So I don't even view it as, and maybe this is just biased because I have to get in this head space to play Krista, but I don't view it as like it had to be a choice between a relationship or a friendship. I feel like in the end it could be a great thing, if you're really looking at the big picture, because if this does end up working out, then we could just all be one big happy family, so I don't know. Sometimes, if it's not full on crossing a line or disrespectful to a friend I don't think there has to be a choice. I think if you can make it work, then, yeah."
Haley Lu Richardson was very personable, and kind, in taking the time to talk to us. She is definitely a rising star, and her many talents (acting, dancing, and crochet) can be seen in Edge of Seventeen in theaters now. Split opens in January, 2017.
[Images Courtesy of 2015 STX Productions, LLC. All rights reserved.]