Jurassic World director Colin Trevorrow has proven to be an invaluable source of sneak peeks from the top secret set in Hawaii. He has been utilizing social media, or more specifically his Twitter account, to share personal images of various props and locations from the shoot.
Trevorrow's latest Jurassic World image is a look at a Mobile Veterinary Unit vehicle parked somewhere on  the set. That in and of itself isn't too exciting, expect that this particular truck has a bloody hand print and blood smear across it.
It's hard to imagine a new Jurassic Park franchise film without dinosaur attacks. Trevorrow's image share might indicate he's willing to push the anticipated PG-13 rating as far as he can when it comes to portraying dinosaur attacks and the carnage they would inevitably leave behind.
Jurassic World stars Chris Pratt, Bryce Dallas Howard, Vincent D'Onofrio, Irrfan Khan, Judy Greer, Jake Johnson, and a host of dinosaurs. It will break into theaters on June 12, 2015.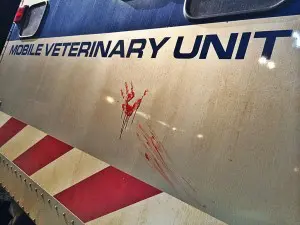 Source: Twitter