'Talent Not Included' Review: All The World's A Stage
Talent Not Included is new indie game from Canadian developer Frima. Set in the fantasy land of Notthatmuchfurther, three very bored monsters, Zordok, Derp, and Kevin, decide to put on a play. Three actors in need of work find their way to the set, Cecil the knight, Bonnie the rogue, and Gundelf the mage, and thus the show begins. Talent Not Included is a side scrolling platformer, but with an interesting twist of being played on a stage, or the same screen, where rotating cylinders change the landscape each scene. Players jump, attack, and use various special abilities with the goal to collect as many candies as possible. The higher the score, the better the monster audience reaction, and ranking at the end of the level.
With 15 stages, or acts, per character, there is a good amount of content in Talent Not Included. The first character introduced is the knight Cecil; his special ability is a whirlwind spinning attack that is very handy to take out enemies sitting on the platforms he jumps to, and a must to make some of the wider jump gaps. After a few levels, Act 2 opens up with Bonnie the rogue. Bonnie can tumble and roll with her special ability, bypassing spikes and other obstructions. Then in Act 3, Gundelf, the mage, takes center stage, and can blast enemies from a distance, and also teleport and float around. Cecil was my favorite to play, as he was more of a classic hack and slash character.
Two player co-op is available, but when playing with a friend after playing solo for a bit, I noticed that, other than boss fights, Talent Not Included was actually easier with one player. As one player would acquire the large gear to end the level, the scene rotates and the other player may not always be prepared for the change and fall into a damage dealing area on the floor. This is not the optimal situation, but it did press for more communication between us. Overall two player mode was enjoyable and a nice change of pace.
The graphics in Talent Not Included are not anything spectacular, but they fit the game well, and the colorful design is portrayed well as the backgrounds change between forest, winter, or desert motifs. The boss fights in Talent Not Included are particularly interesting as the bosses repeat as a character progresses in the act, but with changes, and they get more difficult each time. While not much of a story, the times there is dialog are rather humorous and cute. The final boss is the show's biggest critic; I guess some monsters just have no taste.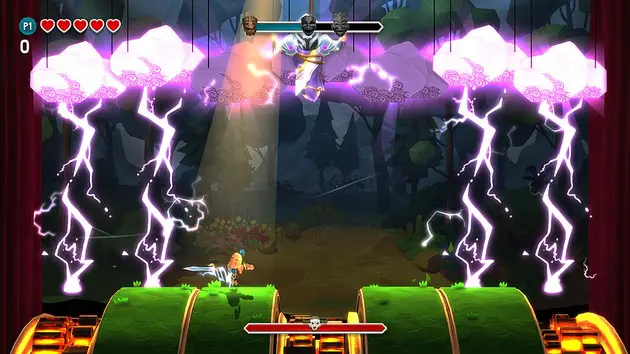 Talent Not Included reminded me of Puppeteer (2013) as both are done on a stage with the audience cheering or jeering at your actions. The design is lighthearted and fun, with delightful catchy music. The controls are very tight and work well with the sometimes overwhelming levels. While not particularly long, Talent Not Included made for a fun afternoon solo and then again later with a friend. For the MSRP of $14.99 I feel Talent Not Included is a good deal if you are a fan of 2D side scrolling platformers. Now, break a leg!
Talent Not Included is available now on Xbox One and Windows PC. This review is based on an Xbox One copy provided for that purpose.
TheHDRoom may be paid a small commission for any services or products ordered through select links on this page.