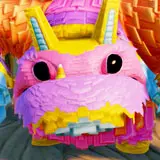 Skylanders Trap Team is fully playable and has a big presence at the Activision E3 2014 booth this year. To coincide with E3, Activision has released a series of high resolution screenshots that depict several of the newly announced Skylanders and villains that are playable in the game.
On the side of good you will find new images for previously announced Skylanders Chopper, Food Fight, Gearshift, Snap Shot, Wallop and Wildfire, as well as just-announced Jawbreaker and Torch. Jawbreaker is a Trap Master while Torch is a core Skylander figure.
Representing the villains is previously revealed Wolfgang along with newcomers Buzzer Beak, Grinnade, Rage Mage, and my personal favorite, Pain-Yatta.
Browse high resolution images of all the new and older Skylanders Trap Team screenshots by clicking the thumbnail images below.