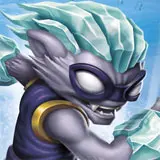 Activision is currently in the process of shipping out Skylanders Swap Force wave 4 that will almost complete the franchise's third game's figure collection. I say almost because I have received wave 4 from Activision to check out and there are two noticeable omissions.
First let's talk about the non-Swaplanders that will show up in wave 4. They will include new characters Fryno and Scratch, as well as Series 2 reposes Turbo Jet-Vac and Fire Bone Hot Dog. Fryno is the most interesting of this batch with the upgrade path that gives him access to his biker motorcycle.
That leaves one regular Skylander, Punk Shock as unreleased, though she is confirmed to be appearing in the special Easter Egg packaging that will arrive around, you guessed it, Easter. It's unclear whether Punk Shock will at first only be available in the Easter packaging initially alongside Springtime Trigger Happy, if she will be released in regular packaging the same time, or if she will appear along with the other wave 4 figures and Activision did not provide me with a sample.
The new wave 4 Swaplanders received Freeze Blade and Trap Shadow. I am especially partial to Freeze Blade as he was one of the very first Swap Force figures revealed and it has taken over a year since his reveal to his release. Plus the top half of every other Swap Force Skylander becomes infinitely cooler when they can skate.
Update: Online retailer Amazon.com has added official pages for Freeze Blade and Trap Shadow that you can access using the links below. They aren't available to buy yet but should be any day or minute, so be sure to bookmark them. I will add links to the official pages for Fryno, Scratch, Fire Bone Hot Dog, and Turbo Jet-Vac when they are available.
Now the only missing Swap Force Skylander is Doom Stone, which probably means he will be the hardest of the bunch to track down when ultimately released unless Activision ships him in huge numbers. Hopefully they do despite slower orders from retail for toys this time of year.
I'm purely speculating here, but my guess is that wave 5 will be the final wave, it will be released in late April/early May, and it will consist of Punk Shock, Doom Stone, Wind-Up and Bumble Blast, the latter two of which have yet to be released on single cards. Whether I am right or not remains to be seen.
So to recap, Skylanders Swap Force wave 4 consists of at least Fryno, Scratch, Turbo Jet-Vac, Fire Bone Hot Dog, Freeze Blade, and Trap Shadow. Also keep in mind that Nitro Freeze Blade is exclusive to Target (March 23 release date) and Enchanted Star Strike will pop up at Walmart, both around the time of wave 4's release over the next couple weeks.
Check out some high resolution screenshots and images of Skylanders Swap Force wave 4 below.