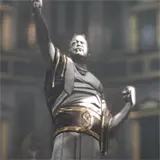 The plot of Microsoft's Xbox One exclusive Ryse: Son of Rome from Crytek has been a bit of a mystery as we count down the days to the next-gen console's debut. We know it's set in ancient Rome and there will be massive battles-a-plenty to partake in, but what's driving the game's hero, Marius Titus, through these barbaric times?
To help shed some light on the plot, Microsoft has released a pair of new Ryse: Son of Rome trailers along with a handful of screenshots. The first trailer digs into the story of Marius Titus and how the Roman soldier is setting out to exact revenge on the barbarians that murdered his family. It offers a mix of gameplay and cut-scene footage, and frankly all of it looks visually stunning.
The second trailer is an in-game stylized cinematic that tells the Legend of Damocles, a Roman centurion betrayed by his commanders in battle and left for dead. He eventually came back from the Underworld to seek revenge on those who betrayed him. Damocles's dagger is given to Marius by his father shortly before he was killed, and Marius uses the story and dagger to help fuel his own quest for vengeance.
Ryse: Son of Rome will be released on November 22 to coincide with the launch of Xbox One. The Ryse: Son of RomeDay One Edition with exclusive content is still available to pre-order at Amazon.com with free shipping.