In the chaos of the 2016 PlayStation Experience in Anaheim over the weekend, many new Playstation titles were revealed, and other surprises leaked out to the public for the first time as Sony flexed its muscles for its fans. Even with a new Uncharted side story title, and the atomic bomb that was The Last of Us 2, Sony still made a huge impact on the sports world with the release of a new gameplay trailer for the hotly-anticipated MLB: The Show 17, which will feature newly-minted Hall of Famer Ken Griffey, Jr. on the cover.
The trailer shows gameplay, of course, but also touches on some of the aspects from the revamped Road to the Show mode, showing a player in the lockeroom getting tips from his coach, as opposed to post game talks on the dugout bench. Could this signal a deeper story progression in the popular sports RPG mode?
On top of the that, San Diego Studio also showed off the cover boy in all his glory (though why the "Jr." is included on his uniform is a question to be answered, from a game that prides itself on realism), along with some new celebrations, made up teams, and cool uniforms.
Ken Griffey, Jr., aside from being the greatest Seattle Mariners player ever, was also very much into video games, and when Nintendo bought the Mariners in 1992, that marriage led to one of the greatest baseball video games ever in Ken Griffey, Jr. Presents Major League Baseball for the Super Nintendo Entertainment System. MLB: The Show 17 remembers that game, and apparently has chosen to honor it by including a new retro mode in The Show 17. The play control, sound effects, and HUD aesthetics are taken right from the Nintendo classic, with only the player models and, of course, updated rosters looking decidedly 2017.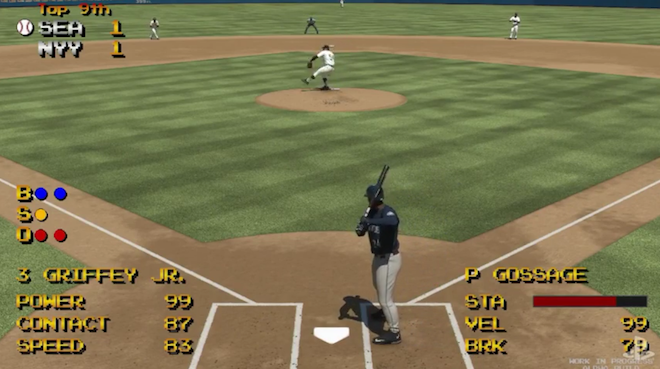 The trailer is included above, and if this is the direction that MLB: The Show 17 is headed, next year's game could end up being the greatest baseball game of all time. And yes, I know I say that every year, but San Diego Studio has yet to prove me wrong. Enjoy the trailer, and come back for more on the game as we get closer to launch.
MLB: The Show 17 is available exclusively for the Playstation 4, and will be released on March 28, 2017.