LET IT DIE is an upcoming free to play mmo game for the PlayStation 4 from developer Grasshopper Manufacture, makers of quirky hits like Killer Is Dead and Lollipop Chainsaw.
I recently got to sit down with the game for a bit and also talk with LET IT DIE's director, Hideyuki Shin and GungHo Online Entertainment America Producer, Tyler Inouye, acting as a translator and host.
Hello and thank you for having me out to try the game and talk with me. I read that this title, LET IT DIE, was originally called Lily Bergamo. Was it always planned as a free to play game and why was that choice made?
From the very beginning, before anything was actually made, once Grasshopper joined the GungHo group, the first title that they agreed to work on together, we said, "What are we going to make?" That talk happened first. It was decided it would be a free to play to game. From the very beginning. It wasn't, "Make the game concept and then make the game free to play." It was always going to be free to play from the start.
I was curious to how that process worked. In my research I saw there was a plan to make a mobile app to coincide with LET IT DIE. Is that still happening and why?
Around the time the game was called Lily Bergamo, we thought it would be a good idea to have a companion app. Throughout the prototyping and the changes that were made it became clear it was not an absolute necessity for the title.
Do you regret that? Was it something you wanted?
In the earlier stages of Lily Bergamo, it felt like it would be a good idea; it fit better But as it evolved we realized it would be fine without it and just as fun, great on its own.
Are there any planned expansions for LET IT DIE?
LET IT DIE is free to play and we will have additional content and events going on. It won't be something where you will buy an expansion, but there will be more to come after launch.
So that content will be free as well or will it be purchasable in packs like many free to play games?
It's all free! (as they smile and laugh)
How quickly will we see more content? Are you planning it already or waiting to see how the game is received?
There is a schedule but it is not set in stone. The main thing we want to focus on is the voice of the users. So based on users reactions, we take that into consideration on what kind of changes will be made or how we add content to LET IT DIE. Those voices are very important."
So will Grasshopper and GungHo have a forum and online community where players can give ideas and opinions about LET IT DIE? How involved will you be in that community?
Grasshopper would like to get a lot of feedback from the users. What could be done better? What would they adjust? We haven't released anything officially for the community but GungHo America will be handling that. You are going to do that right?
(Shin looks at Tyler)
Of course! (they both laugh)
That's great, community is so important to MMO's I have played in the past. Players like to be able to communicate with each other as well. Will there be any plans for multiplayer in LET IT DIE? Like a co-op version?
Right now there are no official plans for that, right now the main focus is the single player, where you can go through the tower and get stronger and enter the "kill or be killed mentality" of LET IT DIE.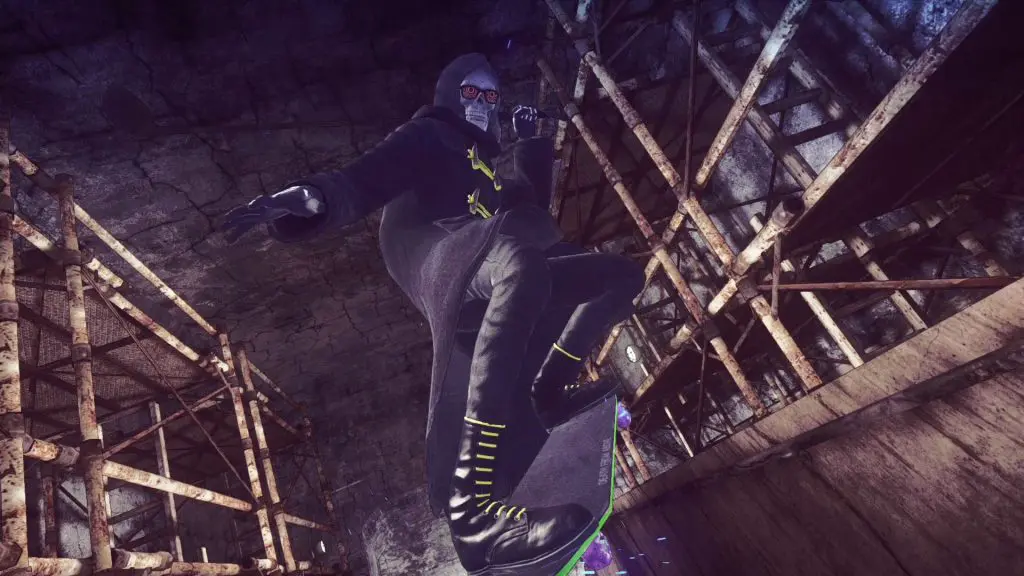 Who came up with the character of Uncle Death?
(Laughing) The scenario and planning team, starting with of course Suda 51, he and the other members went from one idea to another and it kind of just formed and you see him today.
I love him!
Yes everyone loves Uncle Death! Everyone has been saying how much they love him and it's really great to hear.
I cannot wait to see cosplayers dressed as him next year. I don't think they will be able to skate around the conventions though.
(Shin and Tyler laugh)
One last question. What is your favorite part of LET IT DIE?
Out of all the elements of the game the action is my favorite. I like the player interaction, while it is not synchronous, you will have other players in the tower who died and haunt the floor. You see all the great gear they earned. You fight them and say "I just beat someone else's character, they made that and I beat them!"
Also the other side, where if you are killed by them you are like "Motherf*@%! This guy took me out!" The fun thing is if you are killed by another player's character, there is a revenge list. You can go back out and seek revenge. "I'm going to get you back!" Its personal! I love that competitiveness.
It makes you want to stay up all night and never put the controller down so you can get them back!
That's exactly right! (laughing)
Well it was very nice to meet you, thank you very much for sitting down with me today. I am looking forward to playing more of LET IT DIE when it is released.
Shin then asked me, "What is your favorite Grasshopper game to date?"
I would say Lollipop Chainsaw, I went through it a couple times and got all the trophies even.
He laughs, "That is pretty awesome!"
I think that, no matter if the game is for American or Asian audiences, we can all laugh at the comedic violence that Grasshopper is so well known for.
Absolutely!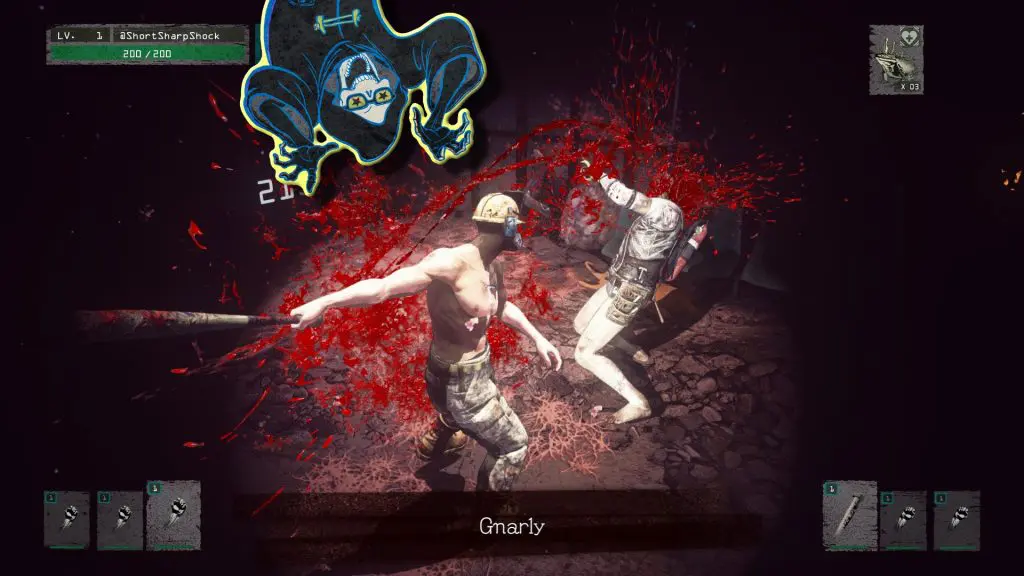 After that I spent a bit more time with LET IT DIE and I have to say, it looks so great!
Players take control of avatars that they use to fight through floor after floor of an immense tower. Along the way you collect new gear and weapons, eat some frogs and mushrooms to heal up, and generally brutally kill anything that gets in your way. From the intro voice work by Mark Hamill to the creative character design of the games mascot "Uncle Death", everything I saw and played was a treat.
While console MMO games in the past have been a bit of a disappointment, LET IT DIE makes great use of the PS4 controller. It is engaging and funny, and really has a lot of depth hidden in the gore. I honestly cannot wait to play it again, so check back here in the future for a full review!
LET IT DIE is scheduled for release in late 2016.