Gurumin: A Monstrous Adventure Review
Gurumin: A Monstrous Adventure 3D is an older Japanese PC, and then later PSP game, that has been brought to the Nintendo 3DS. Gurumin was developed by Nihon Falcom, known for the Y's series, and published by Mastiff here in North America. While the game may look like it is only for children, Gurumin is much more than the usual kiddie game.
Players take the role of a young girl with pigtails named Parin. Parin is forced to move in with her grandfather after her parents go overseas. Unfortunately for her, there appears to be no children in the little town where her grandfather lives. Shortly after moving in, Parin runs into what appears to be a girl in trouble and saves her. That girl turns out to be a monster and only Parin can see her. She takes Parin back to her home through a magical portal, to the Monster Kingdom. While there, the village Parin is visiting, is attacked by evil monsters known as Phantoms. Parin takes up an interesting weapon, a drill on a stick, and fights the phantoms thus saving the village and friendly monsters. This is just the start of her adventure to save the Monster Kingdom!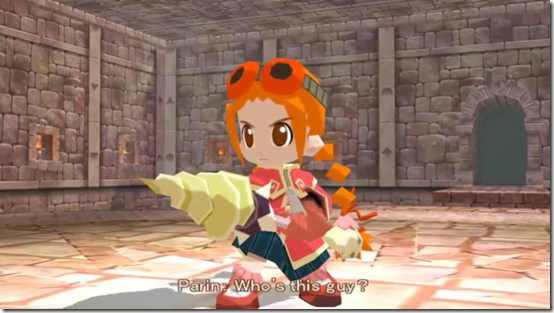 Gurumin is an Action RPG with real time combat, similar to Legend of Zelda: Ocarina of Time. Players will swing Parin's drill on a stick at enemies and can charge it up for even more powerful attacks. Parin will also find and upgrade various headwear and outfits for specific effects. Gameplay is exciting and fun and at times rather challenging. Baddies will drop coin and other junk you can use to buy various upgrades. Some of them are necessary to get past obstacles and enemies.
The graphics in Gurumin are rather dated but still cute. The cartoony environment and animations for enemies and NPC's are fun and some of the bosses are enormous and challenging. The gameplay can get repetitive, many of the same enemies and knocking down wall after wall. The puzzles are very simple as well. The sound and music fit the cute theme but generally annoyed me so I turned the audio off. I must admit I did not use the 3D feature, but if you enjoy that, it does add something new to this version of the game.
Gurumin: A Monstrous Adventure 3D  is a very Japanese style game. Many oddities and strange conversations take place that made no sense to me, but didn't hamper my enjoyment. Gurumin will keep most players busy for at least 10-15 hours and long after if you want to go back in harder modes. For the $14.99 price, players will not be disappointed. For an older game, the makers of Gurumin have managed to breathe life into a cute and fun adventure for the 3DS that I recommend you check out.
https://www.youtube.com/watch?v=gcfr3DGD-wM
Gurumin: A Monstrous Adventure 3D is available for the Nintendo 3DS at the eShop. This review is based on a copy provided for review purposes.
TheHDRoom may be paid a small commission for any services or products ordered through select links on this page.