Last week, TheHDRoom went to Los Angeles to get some coveted hands-on time with the brand new Guitar Hero Live, and the impression that we got was very, very positive.
The event was held at the YouTube space in L.A., and was attended by developers from Freestyle games, luminaries from Activision, and even M. Shadows of Avenged Sevenfold. But the true star of the show was Guitar Hero Live itself, and I can say that it was a rockin' good time.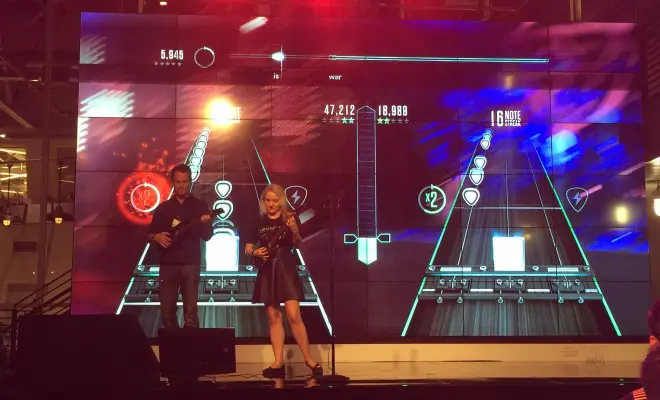 First off, the new guitar ditches the colored buttons that rested in the center of the fretboard and has replaced them with six buttons, two rows of three, that are seamlessly built in to the actual fretboard. This makes fingering feel more like a real guitar. And yes, we are fully aware that no game will ever replace the real thing, but this is a game controller, and not an instrument used to create music.
The guitar controller's update does away with weak-pinkie fails (for which I have been victim of in past Guitar Hero games), and really puts more control in the players hands. The whammy bar still works the same, to wail on long notes, and the strum bar feels more solid. At the event, I was able to play many different guitars in various stations, and they all felt identical, giving credence to the fact that the controllers are more sturdy this time around.
The true bread and butter of Guitar Hero Live is, of course, the music. And it delivers.
We only had a handful of songs to play at the event, ranging from really easy (Black Keys' "Gold on the Ceiling") to insanely difficult (Soundgarden's "Been Away Too Long"), and I did my best trying out each song, fingering as best as I could with the new controller, getting used to the revamped note highway. The first person stage backgrounds may look cool to whoever might be watching me play, but in reality, I was laser-focused on the highway and the note and ted note heading my way. It was a blast and the addition of vocals in each song (using a USB mic) gives Guitar Hero Live a party game feel.
The best part of my hands-on time with the new game is in the new mode: Guitar Hero TV (GHTV). Imagine watching MTV 20 years ago, but then being able to interact and play any video that popped on the TV. That is GHTV is a nutshell. The playable song list here (along with the original music video) was jaw-dropping, with Activision promising that this list is just the tip of the iceberg. I played Haim's "The Wire," followed by Faith No More's "Epic," followed by Judas Priest's "Breaking the Law," and then, inexplicably, a Warrant song that wasn't "Cherry Pie." There was even a Carrie Underwood song and video to play. I don't think I stopped smiling at all during my time with GHTV.
And the vocal component works here too, making it possible for some incredibly fun nights with friends. GHTV compiles the scores of the player and posts it to an online leaderboard so you can compete with your friends, rocking back and forth to see who is the better rock god. Because of this, GHTV doesn't pull any punches, and the notes come fast and furious, but there is no penalty (other than losing streaks and streak bonuses) for messing up. Freestyle did an excellent job of making this as inclusive as possible, and when we get out hands on the final product, I'm sure we will be talking this mode more in-depth.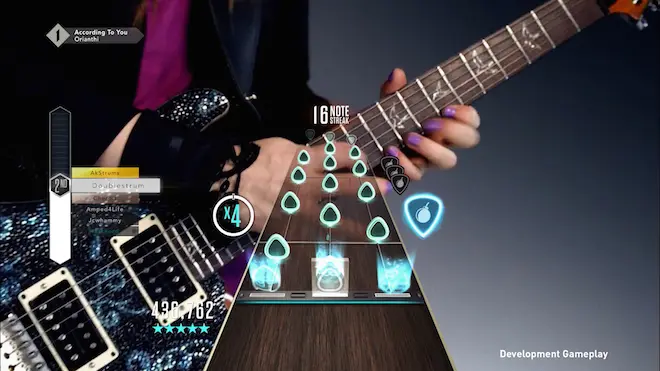 All in all, my limited time with the new Guitar Hero Live was pretty incredible. I was a fringe GH player back in the day, but this game feels and plays better than I remember and the new controller and GHTV mode is top notch.
Come back to TheHDRoom closer to Guitar Hero Live's launch when we sit down with Tyler Michaud, the Senior Director of Product Management at Activision to talk about the history of the Guitar Hero brand, that state of rock and roll, the new controller, and his love of Judas Priest.
I can't wait to play the full game when it is released on October 20. Guitar Hero is back and is honestly better than ever.