Forza Horizon 3 Review: Why Walkabout When You Can Driveabout?
Forza Motorsports is easily one of the best, most fun auto racing sim games on the market. Last year, the sixth game in the core franchise — and second on the Xbox One — thrilled gamers everywhere, and we even put Forza Motorsports 6 in our Top 10 best games of 2015. The Forza series has come a long way in recent years, branching out into the Forza Horizon series, which adds a story to all the driving, in the form of a festival of music, cars, and street racing. The Forza Horizon series diverged at the right time, and after two stellar games, has created its own imprint on the gaming world. Building on the story-driven franchise Forza Horizon 3 is now available for the Xbox One (and Windows 10 PCs via Xbox Play Anywhere), and racers from all over the world are invited to Australia to not only compete in the Horizon Festival, but to serve as its creator.
Forza Horizon 3 is easily the best looking game in the series — the entire series, not just the Horizon imprint. Cars look so ridiculously lifelike that many times, I couldn't tell if I was even playing a game. Weather elements are a major concern, as wet roads are super slick. The motion blur is almost nonexistent, and on the Xbox One S, the 4K/HDR output creates another level of realism that has to be seen — and raced — to be believed. Water, shadows, and light have real-world physics, and the detail is just insane. Now, taking these photo-quality cars and throwing them Down Under only exasperates the visual goodness here. Australia is a beautiful country, and with its six different regions, like sandy beaches, urban cities, rugged, arid outbacks, and lush, wet rainforests, to name a few, the locale in Forza Horizon 3 is the perfect setting to hold a new Horizon Festival, and playing as the "boss," that's exactly what gamers intend to do.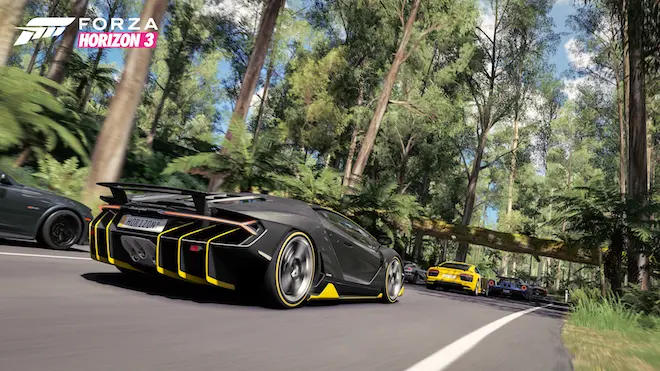 Forza Horizon 3 gives the player unprecedented freedom on how to build the festival. Players choose the radio stations/music that is played, the cars that are featured, the types of races — including minute detail like the number of laps, time of day, weather conditions, and the like — and so much more. Showcase events feature races against helicopters, trains, and even a blimp. Creating new races with Horizon Blueprint, and then participating in the races awards credits, experience, and most importantly, fans. Fans are the key here, as the more popular the festival, the more it can expand over the continent. Winning races, and doing so in style (everything is judged in a race — everything) garners more and more support, making this Horizon Festival the best ever, and in turn, making this the best Forza Horizon game ever.
There are 350 cars to find, unlock, win, and of course, drive in Forza Horizon 3. That is an unprecedented number of styles, designs, manufacturers, and even classic-classic cars. The variety is staggering. Like, I bought a white GMC van with my earned credits, and I like to drive around Australia with the words "free candy" painted on the side. It does nothing in the game, as the van is slow and cumbersome, but street racing a Ferrari in this van makes me laugh and laugh. I have a sick sense of humor — and too much time on my hands, apparently. But the take away here is that I had the freedom to do this; the ability to buy this vehicle; and the tools to customize it to fit my sick joke. And that's just me. There are designers out there doing amazing work on paint schemes and designs. I download the best ones, and am thrilled with the way some of the cars in my garage look.
In addition to cars, there are almost 500 different roads to find and traverse, and bonus signs that unlock XP and fast travel discounts. There are even 15 truly rare, classic cars hidden in barns around the country, and finding them unlocks them for play. There is a ton of stuff to seek out and discover, on top of all the racing, and a new drone mode lets the player survey the country outside of the car, so the true beauty that Turn 10 Studios and Playground Games have created here can be witnessed first hand without worrying about pesky drivers and the occasional tree, both of which I tend to smash into with good frequency.
The online modes allow for players to team up for co-op with up to four drivers playing the campaign, and up to 12 drivers to race against one another in competitive modes. Drivatars make their return in Forza Horizon 3, and seeing your friends out on the roads — even just as avatars — makes the game more enjoyable, especially since any drivatar can be challenged to a race. Sadly, I have a friend on my Xbox Live friends list that is no longer with us, and driving against him in Forza Horizon 3 is a nice reminder of the man he was when he was alive. That's something that this game delivers that I'm sure Turn 10 and Playground could not predict.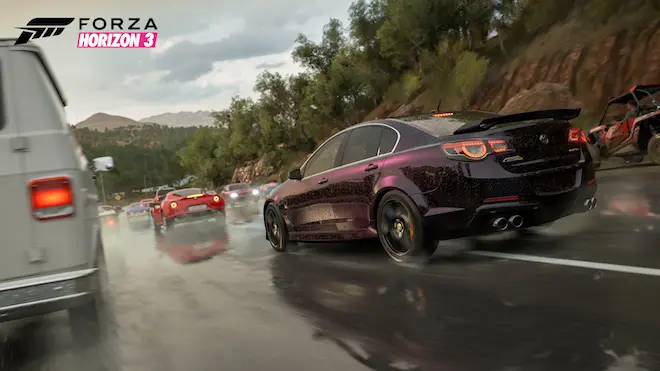 There are eight unique radio stations in Forza Horizon 3, each representing a different style of music. Each station has a good number of licensed songs, so hearing repeats doesn't happen all that often, depending on how much you channel surf while driving. There is even an option to stream your own music with the Groove Music service. With the amount of driving to be done in this game, the ability to selectively choose the tunes blaring from your speakers is a welcome addition.
The key to success in Forza Horizon 3 is in finding the best car or cars, and tinkering with it, tuning it to your driving style. Believe me, it took me a while to find that right combination, but once I did, I began winning races with more frequency, earning bigger rewards and fans, and growing my little festival from one location to four. And I still have over 200 roads to discover and drive on, in addition to all of the other hidden secrets. Forza Horizon 3 is a huge game. Twice as big as Forza Horizon 2, and with the online modes offering distractions to the game's campaign, this is a game that will drive away with all your free time. Luckily, the drive will be fast, smooth, and gorgeous.
Forza Horizon 3 is available exclusively for the Xbox One and is a Xbox Play Anywhere title, so it can also be played on Windows 10-enabled PCs. There are three versions of the game available, each offering different whistles and bells. This review is based off a code provided by Microsoft.
TheHDRoom may be paid a small commission for any services or products ordered through select links on this page.