Fortnite: Mix one half Minecraft, one half Left 4 Dead, add a splash of Blizzard style cartoon graphics and a FTP RNG rewards system, chill for a couple years, and serve. Fortnite from Epic Games recently started early access. While not scheduled for an official release until 2018, like many other games in this type of "Free to Play" schema, such as ARK: Survival Evolved, and Marvel Heroes Omega, Fortnite is available now though if you purchase one of the various flavors of "packs" offered. Starting at a Standard Founders pack for $39.99 and all the way up to the whale-sized Limited Edition Founders Pack for $149.99. Players can also purchase packs of the Fortnite currency, V-bucks, if they want to speed up many of the various systems in the game, and there are a lot of them. So why should you pay for a game that will be free to play in less than a year? Read on and I'll tell you why.
Epic Games realized they had something special when they came up with the idea for Fortnite. Even the name is perfect, you aren't building castles or farms, you build forts. Over the course of the last couple years, the developer has been working hard to get everything to where they were happy enough with the structure and business model to slowly release. These packs for sale on PSN, Steam, and the Live Store, give Epic Games a way to pre-release a great game, get some buzz out there, and then raise some funding to make it even better at the official launch.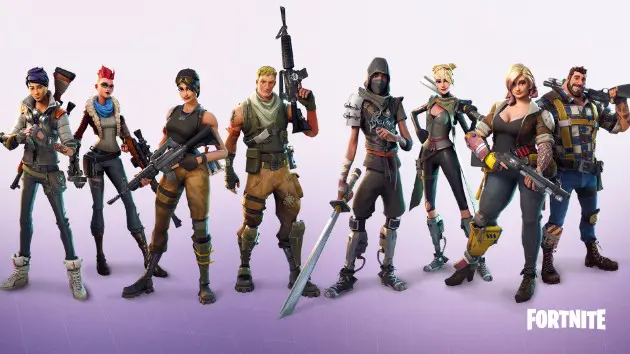 I do feel that sometimes companies use this tactic to take advantage of players and keep reviews from flooding out if their game is full of issues or not really ready. They keep a game in a continual open beta or early access version that players can buy, for years. Case in point would be ARK: Survival Evolved, a game I am not a fan of, and after two years we just learned is finally officially launching. I didn't feel this way when I played Fortnite. I don't feel like it's a waste to "pay to play" early. Fortnite is polished, the systems are great, it doesn't feel like a demo or work in progress. Sure there are bugs, many resource systems need improvements, and not all of the content is available yet, like PvP, but considering the amount of goodies you get in these packs, and the amount of content already included, I feel Fortnite is well worth the cost. It's also nice to have the choice of how much you choose to invest, and in turn support this amazing developer and game.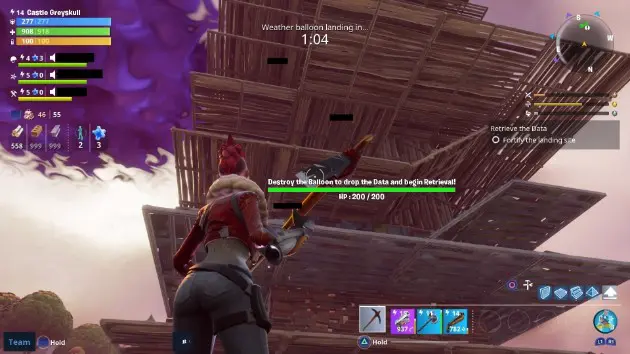 Fortnite is set in a world where a mysterious storm has made 98% of the world's population disappear. These storms also create portals that creepy zombie monsters called "Husks" emerge from, destroying everything in their path. Seriously, even though they are cartoony, seeing a person's head skin flapping behind their skulls like a hood is scary as hell. Players take on the role of a "commander" recruited by a lovely little robot named Ray, voiced by the fantastic Ashly Burch (Attack on Titan). Commanders (the player) are needed to activate and upgrade Storm Shields and save the world. These create a bubble of protection around an area that block out husks and the storm's effects. Players get their own Storm Shield, and via an introductory mission, are taught the basics of Fortnite. Players control different "heroes" from a third person (first person is available in the options but I found it had some bugs) perspective. These heroes have four different base classes, Constructor, who favor building skills, Ninja, fast and melee oriented, Outlander, an exploring and loot specialist, and finally the Soldier, a well rounded mixture, but more combat oriented. There are tons of different heroes, with many different skill and secondary subclasses to choose from depending on the heroes rarity and level. These hero cards are available via quests, but most will come from the RNG (Random Number Generator) based loot system Fortnite uses, Llamas. Basically they are pinatas that never shut up. Players smack them to get the loot inside. If you are lucky, they can turn into a silver version on the first swing, and then a gold on the second, but it's very rare. The rarity and amount of loot cards depends on this gold or silver version upgrade. Getting as many of these llamas as possible should be your goal, to press your luck and hope for a mythic rank hero, weapon schematic, or survivor card. These are also the best way to get resources as you can retire cards for their respective XP and level up the ones you are using. When you retire cards, you even get a large sum of the XP (if any was used previously on that card) back. I like this. I didn't feel the need to horde XP and save it and wait for that perfect card.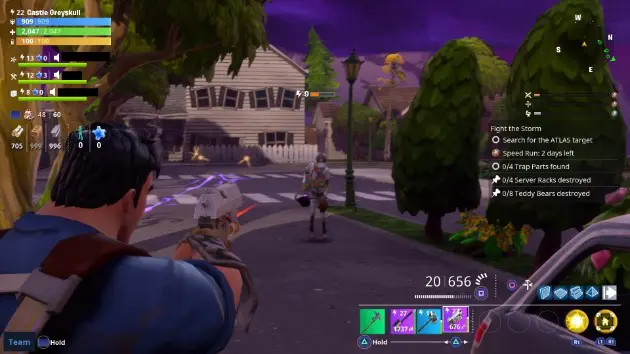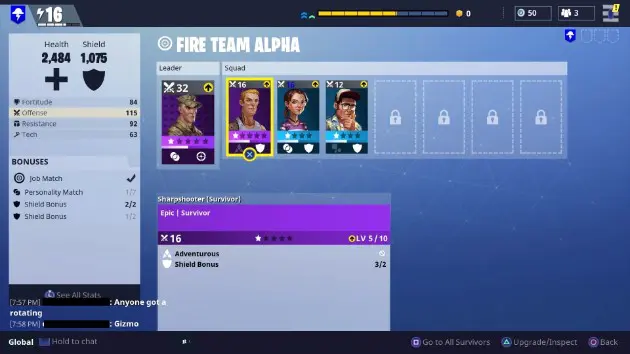 There are a TON of resources to manage in Fortnite at the menu or "Homebase". Heroes, weapons and their schematics, traps and their schematics, survivors and their various squads you can assign them, defenders, and even a collection book that players can permanently insert cards for various rewards. Weapons themselves do not have a means to be enhanced or upgraded, and will eventually run out of durability, so don't get too attached, and always have a spare on hand if you are particularly fond of a certain schematic/weapon. Players can collect and then level up the schematic and then create an upgraded version of the weapon or trap. I must say, I enjoy resource management like this. If you don't enjoy min-maxing, cleaning up your bag space, and generally managing tons of materials, Fortnite may not be the game for you. This isn't just a "kill stuff and win" game. That brings me to the building aspect of Fortnite. Almost everything is destructible in the mission areas and gives one of three different construction resources, wood, stone, and metal. These sadly cap at 999, hopefully this can be upgraded in the future, as players will want to keep going back to their personal Storm Shield base and build up their defenses.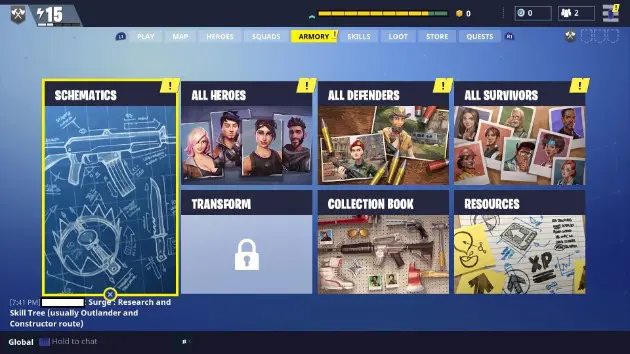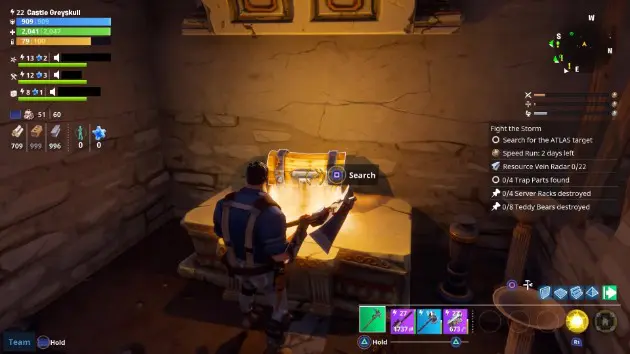 Fortnite isn't overly complicated when it comes to building, and I think that's why I enjoy it so much. Players pick from walls, floors/ceilings, stairs, and a steepled roof if you want to get fancy. These base parts can be edited with squares being removed for windows, doors, or stairs directed in a certain way. Construction is vital to keep the husks from damaging your protected objectives. Be sure your team takes the time to build a proper defense and farm for materials before starting these objectives. Players can also insert traps into constructed areas, from spiked floors and wall darts, to electrical ceiling zappers and poison gas distribution . These are crafted, just like everything else in Fortnite, so be ready to spend some time farming for materials. "Work, work, work." I can totally see this being a fun aspect to PVP in the future if teams go against each other. I love being a tricky architect so watch out!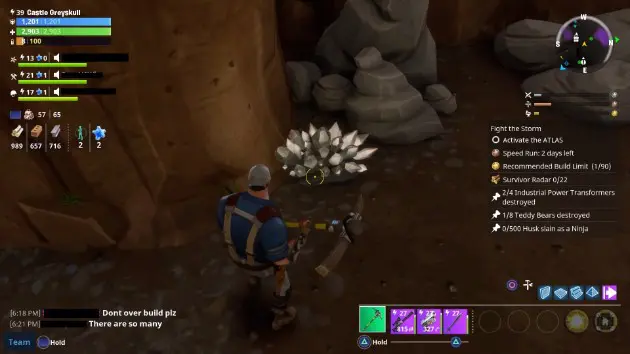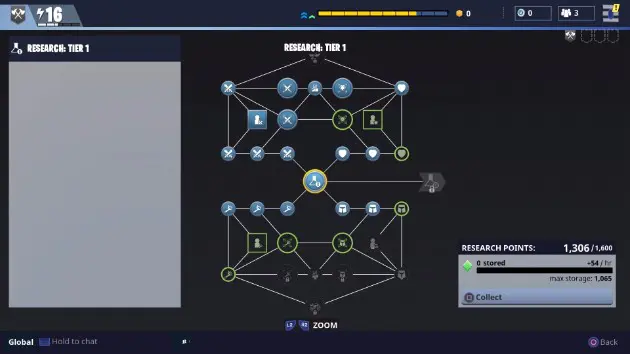 I am 50 or more hours into Fortnite as I write this. This is by far the most I have ever played of a game with an online co-op shooter structure, including Overwatch. Fortnite manages to combine two things I am not a big fan of, online co-op 1st/3rd person shooters, and the building or "Craft" genre. Strangely enough though, the combining of these two, along with some amazing art direction, multiple resource management systems, and simple to play third person combat, has me hooked. I actually cannot wait to get home and play everyday, even if for a little bit, because I know I will be rewarded with prizes just for logging in and daily quests to keep me focused, something Blizzard perfected in World of Warcraft. Some people have voiced complaints about a "paywall", but in my experience, this only should occur if you play 10 hours a day or more and are trying to max out as quickly as possible. If that is your goal when you play Fortnite, yes, you will hit a wall, not all the content is finished or open yet, so I expected it. Fortnite is great for players like me, who only play a bit everyday, come home, open a beer, and relax while building their fort and killing some husks. It's not a race, and remember, this is EARLY ACCESS to Fortnite. Changes are bound to come and issues resolved in the coming months. That said, it is still one of the most polished, and the best early access games I have ever played. Epic Games has been doing a fantastic job communicating with the players, via Reddit, and their own internal systems. Give them time to make this great game even better. If you are willing to look past some initial issues, players will find a fantastic game well worth the early access buy-in fee. I expect I will be playing Fortnite well past the full release date and hopefully for years to come. I am excited to see what this game becomes and watch it evolve. Check back here at TheHDRoom.com in the future for a full review when Fortnite officially releases in 2018! Till then, good luck smashing llamas!
Fortnite is available now with early access packs for PlayStation 4, Xbox One, and PC. This article is based on a PS4 code provided by the publisher.