It's calendar circling time as Bethesda Softworks has tapped May 13th, 2016 as the global release date for DOOM on PlayStation 4, Xbox One and PC. The announcement includes the unveiling of a DOOM Collector's Edition, a pre-order bonus, and an all-new DOOM trailer full of juicy gameplay to soak up.
Anyone who pre-orders DOOM ahead of the release date at a major retailer will receive the Demon Multiplayer Pack free of charge. This pack includes, in Bethesda's words, "a unique demon armor set with three skin variations, six metallic paint colors and three id logo patterns that can be applied to weapons and armor, plus a set of six Hack Modules – one-time consumable items that can give you an edge in a multiplayer match."
The DOOM Collector's Edition includes a standout 12″ statue of the Revenant on an LED-lit base with an animated slow-spinning turbine. The Collector's Edition comes in an exclusive metal case and retails for $119.99, As with any collector's edition this one will be produced in limited numbers so you might want to lock in your pre-order while supplies last.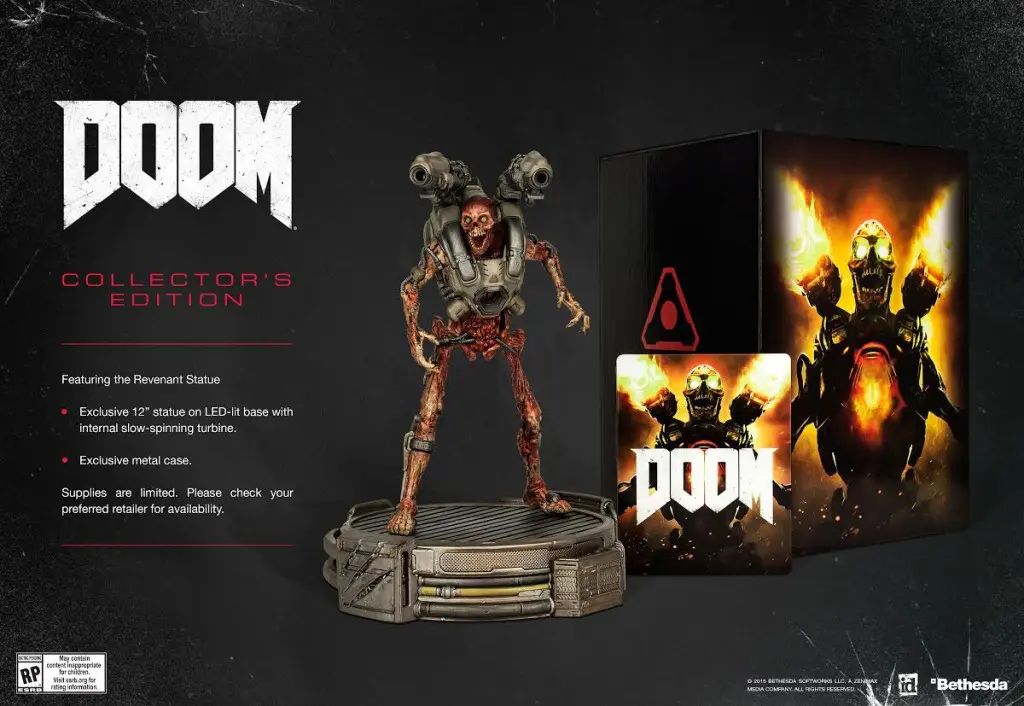 Last and certainly not least is the new DOOM gameplay trailer that focuses on the game's campaign. It runs only a minute in length but packs in a ton of blood, gore, and an unfortunate parting of one's torso and legs. There's not a single dull moment to be had.