'Call Of Duty: Infinite Warfare' Continuum DLC Review: A Fun Way To Funk Off
The second Call of Duty: Infinite Warfare DLC pack, called "Continuum," has finally dropped for Playstation 4 users, and with it comes four new maps, and a brand new Zombies chapter. The new maps bring new strategies, as each map has strengths, and one is even a remake of a beloved classic from Modern Warfare 2. The Zombies chapter takes our four actors from the 1990s rave in the woods to the funky streets of 1970s New York for some kung fu zombie shenanigans. Together, the Continuum DLC continues (got that out of the way, and will not use it again) to give players a reason to come back to Infinite Warfare, now six months after launch.
The Continuum DLC has three brand new maps, and one remade classic map. Together, the four maps bring a lot of needed energy to Call of Duty: Infinite Warfare. Each of the maps takes into consideration that many different players, with different play styles, play Call of Duty, and they rewards those players with a set of maps that shine from all directions.
Building on the stellar Sabotage DLC drop, Continuum offers players of all styles something new and exciting. Snipers get long sight lines in Scrap, a map that takes place on the moon. Run and Gunners can run and gun to their hearts content on Turista, a map made up of an hotel resort built into the side of a mountain overlooking the fallen remains of a giant beast. Those players that like their action fast and in their face will enjoy Archive, a tiny map that takes place in a art museum, with a great white shark sculpture serving as the center piece. Excess, the remake of the classic map, Rust, keeps things moving with lanes that drive players back to each other over and over. Stealth and CQC players will enjoy all the maps, as the designers understood the need for multiple paths and secret coves to hide in. All in all, the four maps here really shine, and after playing on them for a week, I'm still finding newer and exciting places to hide, hunt, and shoot from.
Scrap
The first map to review is Scrap. This map takes place on the moon, in an abandoned mining facility. There are tons of places to hide and run, with downed pipes serving as perfect spots to ambush. The map is arguably the largest in the Continuum DLC, and works really well with game modes like Domination. The battle for objective B, being out in the wide open with so many possible kill zones is both thrilling and daunting. Only a fool would dare venture out into the center region, and the piles of corpses during my play proved that. For fans of large maps with a plethora of ins and outs, Scrap is for you.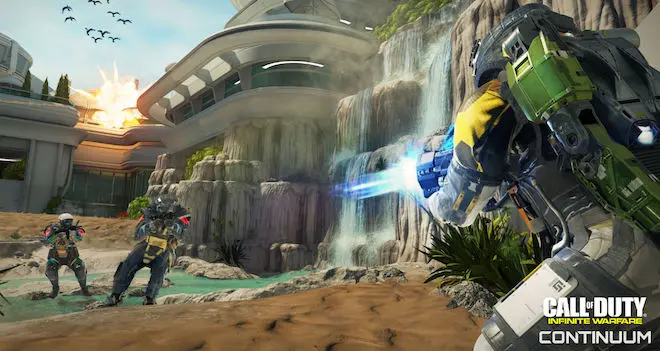 Turista
Turista takes place in a resort, with waterfalls, cliffs, multiple windows and doors, oh, and a huge friggin' skeleton in the background. This map is the snipers dream, and the multiple lanes all lead into long sight lines for some sniping. Careful run and gunners can use pathways around the structures, and the cliffs and waterfalls themselves as cover to take out the snipers, only to be shot again from someone on the other side. This is not the map for free for all, as you almost need a buddy watching your back at all times, because I can guarantee, someone has you in their sights every step of the way. This map offers something for everyone.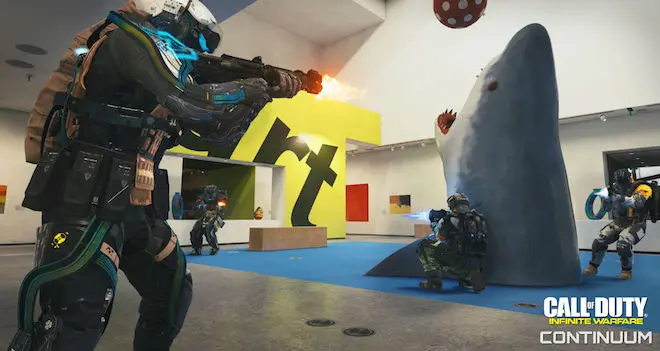 Archive
Every Call of Duty DLC drop has that one map that is unique and fun, and Archive is that map here. Taking place in an art museum, players are seemingly shoved at each other in the tiny intimate setting and it's kill or be killed. Team Deathmatch is the preferred game for this map, as the close quarters calls back to the insanity of the original Nuketown map. It's all bullets, all the time, and the most fun I had of all the maps. And that shark sculpture is pretty cool too.
Excess
Excess is the remade Rust map, from Call of Duty: Modern Warfare 2. The map is small, and every path leads back around, keeping players moving, being fed back into each other like a grind house. There is no rest for the wicked here, as the need to keep moving and keep shooting takes away from the gorgeous visuals of this supposed extravagant estate. I enjoy my time on this map, but the constant need to keep moving or die makes me long for a bigger map, like Scrap, to give me time to use a perk, or just stop and take in the surroundings. Excess, at times, feels like an exercise in chaos. And if that's your preferred style, have at it.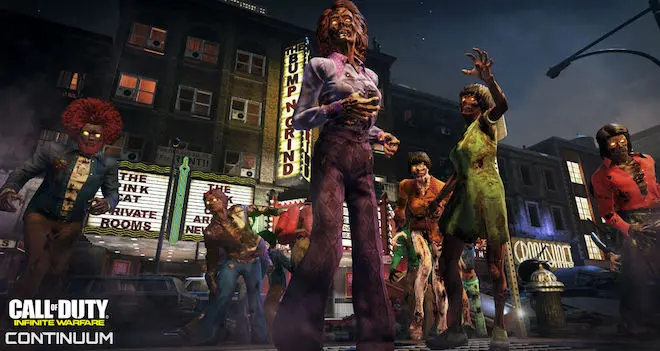 Zombies
Rounding out the Call of Duty: Infinite Warfare Continuum DLC is a brand new chapter in the Willard Wyler horror film story, Shaolin Shuffle. This time, Wyler (Paul Reubens) has dropped the four actors (Jay Pharoah, Sasheer Zamata, Ike Barinholtz, and Seth Green) into New York in the 1970s, each with a stereotypical character to play. A Rat King-like monster is causing havoc, and the four must survive wave after wave of afro-wearing, roller skating, disco-dancing zombies and survive. Kung Fu movies play a huge role here, as players can utilize cards that give them fists of fury to take out of the undead menace. And I'm pretty confident that I saw the cast of Welcome Back, Kotter try to kill me in the subway line. This Zombies chapter is the funkiest of them all, and I couldn't help but smile at the '70s-themed absurdity going on around me. The sounds, the music, the lingo, and even the look all scream disco-era New York. Pam Grier, the Queen of Blaxploitation films, also makes an appearance, and it is sublime.
Call of Duty: Infinite Warfare Continuum DLC brings a fresh energy to the game, giving players some new locales from which to kill each other, and a solid, funky new chapter in the Zombies storyline. With this being the second DLC (of four), it's already hard to imagine just where — or when — the Zombies story will go next, or what classic map will be remade for combat on a new generation of consoles. I guess we'll all find out in a few months.
But for now, Continuum is well worth picking up for fans new and old. Call of Duty: Infinite Warfare Continuum is part of the Season Pass, and can be purchased separately for a retail price of $14.99. The Continuum DLC is only available for Playstation 4 users right now, and will expand to Xbox One players on or around May 18.
Call of Duty: Infinite Warfare Continuum DLC is available now for Playstation 4 users, and will be available later this month for Xbox One players. This review is based off a code provided by Activision.
TheHDRoom may be paid a small commission for any services or products ordered through select links on this page.