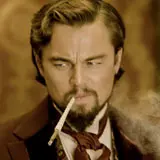 Peter Jackson and Warner's The Hobbit: An Unexpected Journey stayed put in the number one spot at the North American box office for the third consecutive weekend. The Middle-earth hit withstood strong openings from Quentin Tarantino and the Weinstein Company's Django Unchained and Universal's Les Miserables in the final box office weekend of 2012. Overall, the box office enjoyed a strong Christmas week to close out a year full of monstrous hits and improvement over the prior year.
The Hobbit crossed the $200 million mark domestically on Friday during its box office journey following a week that saw the movie trade places with Les Miserables for the number one spot on both Christmas Day and Wednesday. For the weekend, the movie earned an estimated $32.9 million on 4,100 screens to bring its total to a big $223 million. Overseas, Gandalf and his gang saw their journey cross the $400 million mark. Depending on how well it holds over the next few weeks, An Unexpected Journey should wrap up with approximately $280 million domestically and north of $700 million worldwide.
Ambling its way into the number two spot was the Quentin Tarantino western Django Unchained. The critically acclaimed (89% Rotten Tomatoes rating) and violent R-rated film surprised many given the film's strong opening and staying power this past week. After nabbing $33 million in its first two days, Django added an estimated $30.7 million on 3,010 screens to bring its five-day total to over $64 million. The movie will become Tarantino's third film to cross the $100 million mark following 1994's Pulp Fiction and 2009's Inglorious Basterds.
Universal had plenty to sing and celebrate about with its great opening for its Oscar contender Les Miserables. Directed by King's Speech director Tom Hooper and starring Hugh Jackman, Anne Hathaway and Russell Crowe, the big-screen adaption of the beloved Broadway show got an okay 71% approval rating on Rotten Tomatoes. Some thought it was a masterpiece; others thought it was 160 minutes of tone-deaf torture.
Ticket buyers on the other hand, loved it. They gave the film a rock-solid "A+" rating on CinemaScore after opening the film on Christmas Day with a massive $18.1 million. The film quieted down a bit over the following days but like Django, Miserables' business that was anything but miserable. Over the Friday-to-Sunday period, the film earned an estimated $28 million on 2,814 screens. The five-day grand total for the Jor-El/Wolverine/Catwoman sing-off stands at $67.4 million.
Fourth place went to another Christmas Day debut, Fox's family comedy Parental Guidance. The Billy Crystal/Bette Midler laffer opened on 3,367 screens this past Tuesday to earn a decent $29 million in its first five days (weekend totals were estimated at $14.8 million). Not too surprisingly, critics hated it (17% Rotten Tomatoes rating). But with so little family-friendly entertainment out in the market this Christmas, those who already had seen Rise of the Guardians and have Monsters Inc. sitting on a shelf at home had little choice for a day out at the movies for everyone.
Rounding out the top five this weekend was the Tom Cruise thriller Jack Reacher. The movie has been doing steady business since opening on the 21st thanks to word-of-mouth from ticket buyers. This weekend, Jack reached for an estimated $14 million from 3,352 theaters to bring its ten-day total to $44.5 million. The film could wind its domestic run near the $70-75 million mark, a decent amount for the Paramount feature but well below the $209 million Cruise collected last year at this time with Mission: Impossible – Ghost Protocol.
The remainder of the top ten is as follows:
6. This is 40 (Universal) $12.5 million; $36 million to date
7. Lincoln (Dreamworks/Fox) $7 million; $132 million
8. The Guilt Trip (Paramount) $7 million; $21.4 million
9. Monsters Inc. 3D (Disney/Pixar) $6.2 million; $18 million
10. Rise of the Guardians (Dreamworks) $5 million; $90.4 million
Next weekend, 2013 kicks off with the Matt Damon energy drama Promised Land and the horror entry Texas Chainsaw 3D taking aim at The Hobbit: An Unexpected Journey for the box office's top spot.
Have a safe and Happy New Year!
– Shawn Fitzgerald