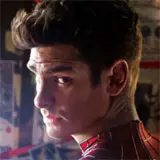 If it's the first weekend of May, it must be time for two things: the start of the summer movie season and the arrival of another big Marvel superhero flick. This year, the Marvel offering is The Amazing Spider-Man 2, which arrived Thursday night to open to numbers that were, well, amazing.
With one or two exceptions, 2013 is a year that Sony would no doubt like to pretend never happened. After Earth, White House Down, The Smurfs 2 and Elysium were all big-budget summer blockbuster wannabes that either underperformed or fell flat on their face. Foreign markets eased the financial pain a little bit, but not enough to consider the year a success. Grown Ups 2 was their highest domestic grosser for the year at $133 million or $42 million less than Iron Man 3 earned in its first weekend for Disney. Suffice to say, Sony was in need of a box office rescue and quick.
It was time once again to call on their box office-friendly neighborhood Spider-Man. Less than two years after the studio rebooted its popular franchise with The Amazing Spider-Man, the latest chapter in the Marvel series arrived Thursday night to kick off the 2014 Summer Movie Season and give Sony its first hit since last December's American Hustle. Swinging onto 4,324 screens (which included many 3D and IMAX venues), the $260 million Amazing Spider-Man 2 ($450 million if you factor in the marketing) earned a spectacular $92 million in its first three days. The total was roughly $30 million more than the July 4th opening weekend for the previous chapter. Spidey's big debut was the second Marvel Comics' film to open above the $90 million mark in less than a month, the other being the $95 million early April opening for Captain America: The Winter Soldier.
The film, which reunites the director (Marc Webb) and several cast members (Andrew Garfield, Emma Stone and Sally Field) from The Amazing Spider-Man while adding Jamie Foxx and Paul Giamatti, had the box office playing field all to itself. Reviews proved to be the weakest to date for the 12-year old series (saying this is worse than Spider-Man 3 is a bold, bold statement), culminating in a 54% approval rating on Rotten Tomatoes. Spidey fans and other members of the general public chose to ignore the reviews and judge for themselves. Their verdict was an encouraging but not spectacular "B+" on CinemaScore.
Despite the mammoth opening and encouraging feedback from ticket buyers, one has to wonder if the new feature has what it takes to pass the $262 million domestic haul earned by the previous Spidey feature. Sequels tend to burn out fast, and this film faces serious competition from the upcoming Godzilla on May 16 and X-Men: Days of Future Past a week later. Even if Peter Parker and his pals earn less domestically than they did two years ago, Sony can take solace in the fact that the film has already earned $277 million overseas in just three weeks' time and should be able to pass the last film's $494 million foreign gross without much difficulty.
Last weekend's number one flick, Fox's The Other Woman, showed off some nice-looking legs — box office legs that is — in its second weekend as the comedy eased only 43% on 3,238 screens. After ten days, the film has earned a healthy $47.3 million and should make its way to a solid $70 million by the end of its run. Foreign markets have contributed $20 million thus far.
In third place was the sleeper hit Heaven is for Real with an estimated $8.7 million from 2,930 theaters. Off 39%, the Randall Wallace-directed feature has earned a great $65.6 million to date. The $12 million faith-based drama should hit at least $80 million and could go further than that by the end of its run. Heaven is for Real is the latest 2014 religious-themed feature to turn in strong numbers at the box office following God's Not Dead ($55.5 million) and Son of God ($60 million).
With the arrival of a new superhero in town, Captain America's latest big screen adventure The Winter Soldier was expected to take a direct hit. It did just that, losing 53% of its audience to earn an estimated $7.7 million on 3,179 screens, which was good enough for fourth place. With $237 million domestically and another $442 million from overseas markets, I seriously doubt Disney/Marvel are crying about the slowdown. The Winter Soldier is still on track to hit $250 million domestically and $700 million globally. The domestic total for Cap now has beaten the domestic hauls for each of the X-Men features (so far) as well as each film in the Thor, Hulk and Fantastic Four franchises. The third installment arrives in May of 2016.
Rounding out the top five this weekend was Fox's animated hit Rio 2 with $7.6 million on 3,314 screens. With The Amazing Spider-Man 2 being a bit more family friendly than The Winter Soldier was, Rio 2 took a hit in business similar to the Captain America feature. Off 45%, Rio 2 has earned $106.4 million domestically and should work its way to $120-125 million. Its foreign total stands at $247 million.
The remainder of the top ten is as follows:
6. Brick Mansions (Relativity) $3.5 million (-63%); $15.4 million
7. Divergent (Lionsgate) $2.1 million (-41%): $142.6 million
8. The Quiet Ones (Lionsgate) $2 million (-49%); $6.7 million
9. God's Not Dead (Freestyle) $1.76 million (-37%); $55.5 million
10. The Grand Budapest Hotel (Fox Searchlight) $1.73 million (-29%); $51.5 million
Next weekend sees the arrival of Neighbors, Legends of Oz: Dorothy's Return and Mom's Night Out. Even if Spider-Man drops by 60% it should have no problem staying put at number one.