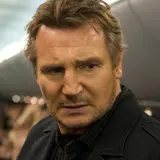 Liam Neeson and his new action thriller Non-Stop managed to finally snap The Lego Movie streak at the box office on Friday. The other newcomer, Son of God, also opened strong, setting up a showdown on Saturday and Sunday for the weekend box office crown.
Non-Stop was virtually unstoppable on Friday as it opened to $10 million and set up an opening weekend that will fall somewhere between $25 and $30 million. Liam Neeson is back on his game after lesser openings from The Grey and Unknown. The stellar start for Non-Stop proves that audiences want to see Neeson with a gun in his hand and bad guys to dispose of.
Son of God wasn't too far behind at $9.4 million on Friday as the two newcomers duked it out for the top spot. The religious-toned film should also surpass $25 million through Sunday and could challenge Non-Stop for the weekend title.
The Lego Movie was finally dethroned but still fell less than 50 percent on Friday from the previous same day of the week with $4.4 million. Weekends have been kind to the family-hit and this one should be no exception as The Lego Movie has a strong chance of hitting $20 million. The $200 million mark should be crossed on Saturday.
3 Days to Kill was slaughtered by Non-Stop as Kevin Costner was unable to strike the same gold Neeson did. It fell over 60 percent and earned $1.45 million, bringing its overall gross to $17.2 million.
Fifth place went to The Monuments Men with $1.44 million, besting last week's newcomer Pompeii at $1.2 million. Pompeii has only earned $14.6 million domestically and might as well start gearing up for its home video run.
Stop back Sunday for the full weekend box office studio estimates.