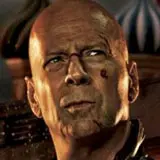 Bruce Willis and his fifth turn at John McClane in A Good Day to Die Hard beat out last week's champ Identity Thief and a quartet of new arrivals including Safe Haven and Beautiful Creatures to claim the number one spot at the North American box office over the President's Day weekend. While business roared back to life following the crippling blizzard on the East Coast last weekend, the numbers were still down roughly 12% from last year's levels.
It has been six years since Willis battled bad guys in Live Free or Die Hard. That 2007 PG-13 rated entry opened in late June and ended up making a franchise-high $134 million (pre-inflation) while scoring the best reviews for the series since the 1988 original.
Twentieth Century Fox took five years to deliver the inevitable follow up and finally did in the form of R-rated A Good Day to Die Hard, the first franchise film not to open during the summer. It commandeered an okay $25 million in its debut on 3,553 screens ($33.2 million when you add in the $8.2 million Valentine's Day opening numbers). While the debut is impressive given the age of the franchise, the numbers still lag behind the $48 million earned by the last installment.
The other films in the series have all scored their fair share of respectable reviews. A Good Day to Die Hard, directed by John Moore (Behind Enemy Lines, Max Payne), received mostly negative reviews including a 17% approval rating at Rotten Tomatoes (read our A Good Day to Die Hard review).
While the "B+" approval from ticket buyers on CinemaScore may indicate the film is a moviegoer favorite, one has to travel no further than Internet forums to read some particularly harsh feedback (none that can reprinted here). With such toxic word-of-mouth spreading among the movie's target audience, the drop offs may come fast and furious. A Good Day to Die Hard may become the first series entry to gross less than $100 million at the North American box office.
Even if that turns out to be the case, Fox can find solace in the ever-growing foreign market. After two weeks of limited release overseas, A Good Day to Die Hard has already earned a big $80 million.
Universal's hit comedy and last weekend's champ Identity Thief continued to keep audiences laughing by dropping a moderate 32% in business and scoring a solid $23.4 million in its sophomore session on 3,165 screens. The film's per-screen average of $7,405 was the highest in the top ten. After ten days, the movie has earned a great $70.7 million and is working its way to a big $135-140 million. Take THAT, Rex Reed!
After ruling Valentine's Day on Thursday, the latest Nicholas Sparks romantic drama Safe Haven settled for a third place finish in its first full weekend of release on 3,223 screens. The critically-panned (13% Rotten Tomatoes approval rating) Lasse Hallstrom-directed feature (Dude, what happened to you?) starring Josh Duhamel, Julianne Hough and Cobie Smulders earned an estimated $21.4 million to bring its four-day debut total to $30.2 million. The number was down roughly 25% from last year's Nicholas Sparks' V-Day offering The Vow which opened with around $40 million.
Fourth place went to another debut, the Weinstein Company's animated comedy Escape From Planet Earth. Another feature hated by critics (24% approval rating on RT), the 3D family flick opened on 3,288 theaters on Friday and earned an okay $16 million. Earth features the voice talents of Brendan Fraiser, Rob Corddry, Sarah Jessica-Parker and Ricky Gervais.
Showing some very nice staying power in fifth place was Summit's zombie comedy Warm Bodies. The movie was off only 20% in its third weekend to earn an estimated $9 million on 2,897 theaters. To date, the movie has grossed a nice $50 million and may wind its run down with $70 million.
The news wasn't as promising for Warner Brothers' romantic teen thriller Beautiful Creatures, the fourth wide release of the weekend. Based on the first novel in the Caster Chronicles novels by Kami Garcia and Margaret Stohl, Creatures got the best reviews of the quartet of debuts this weekend (if you can call a 45% approval rating on RT "good"), but still failed to find an audience. The movie opened on Thursday with a dismal $2.6 million and crawled its way to earn $7.4 million in its first weekend on 2,950 screens. The $10 million haul in its first four days was only good enough for a sixth place finish.
The remainder of the top ten was as follows:
7. Side Effects (Open Road Films) $6.3 million (off 32% from last weekend); $19.1 million
8. Silver Linings Playbook (Weinstein) $6 million (-5.2%) $98.4 million
9. Hansel and Gretel: Witch Hunters (Paramount) $3.47 million; $49.6 million
10. Zero Dark Thirty (Sony) $3.1 million (-22%) $88 million
The alien themed Dark Skies and Snitch with Dwayne Johnson open next weekend in hopes of toppling A Good Day to Die Hard from the top spot.
– Shawn Fitzgerald