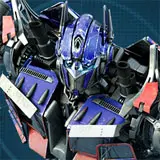 The second Transformers movie-based game officially "rolled out" this morning with a small sampling of screenshots and the first teaser trailer courtesy of Activision.
The screens (viewable below, click the thumbs) mostly focus on known characters from the first movie Bumblebee, Optimus Prime and Ironhide. They look for the most part identical to how we last saw them.
There is one new character on display, a mobile rocket launcher Decepticon. Though this real-life vehicle was spotted on-set in Mexico during the Revenge of the Fallen shoot, I'm more inclined to believe he's a "drone" dreamed up for the game. At the same time, I'd love to be proven wrong!
The video essentially matches what you see in the screens only put into motion. One theory about the movie's teaser poster mysterious "face" image is confirmed as the game trailer ends: a Decepticon logo fades on top of the "face" proving an obvious connection between the two.
The official Transformers game website has opened back up for registrations after accidentally going online briefly last week. You can't log in and see much yet but you can still check out a couple pages: www.transformersgame.com.
Transformers: Revenge of the Fallen the game will hit stores around the time the movie hits theaters in late June on Xbox 360, PS3, Wii and other platforms.