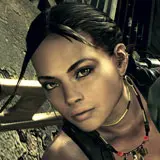 Mercenaries Mode has been a fixture in the Resident Evil gaming series so it came as no surprise when Capcom announced the beloved mode would appear again in this week's release of Resident Evil 5 on PS3 and Xbox 360.
Mercenaries Mode is an unlockable mini-game played on modified levels from the campaign.
Enemies continuously spawn from new areas in this mode and the longer you survive, the fewer resources such as ammo and weapons will be at your disposal. The enemies will also increase in difficulty as you progress.
Check out the first screens from Mercenaries Mode below (click the thumbs for high-res reviews) and look for Resident Evil 5 in stores later this week!