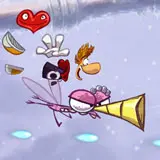 Ubisoft is sharing some more Rayman Origins love today with a new trailer and screenshots that explore how the hero covers ground.
In the '10 Ways to Get Around' trailer, Rayman and his sidekick Globox use the environment and their physical prowess (kidding, sort of) to help restore peace to the Glade. Comprising the 10 ways to get around are running, bouncing, wall-running, zip-lining, swimming, riding, sliding, flying, destroying, and last but not least, helping hands.
If you're confused about any of those methods of travel then by all means, watch the trailer below for a colorful demonstration of each. Furthermore, click any of the screenshot thumbnails for a high resolution look at the glorious 2D side-scrolling world of Rayman Origins.
Click here to pre-order Rayman Origins for Xbox 360, Playstation 3 or Nintendo Wii at Amazon.com, due for release on November 15.