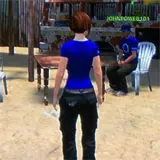 Our favorite PS3 Home beta anonymous tipster has struck again after offering us 17 videos straight from the Home beta a few months ago.
PS3 Home has evolved quite a bit since those videos were snapped including the first third-party Home space based on a game, Ubisoft's Far Cry 2.
This first part of our tipster's update is a video showing a trailer for Far Cry 2 playing on a large screen in a Home public space. A few beta invitees stop by to check out the video, or is that check out the girl? Funnily enough the dudes end up literally inside each other.
The second half of the update consists of 26 screenshots snapped directly from the PS3 Home beta Far Cry 2 space. In the screens you'll get to see the two main areas of the Far Cry 2 Home space: Rueben's Office, a 14.6 MB download; and the Train Station whose download size is unfortunately too blurry to see.
The blur in the images varies from none to extreme but you'll find plenty to look at either way. Enjoy the images below, and be on the lookout for more PS3 Home media very soon.