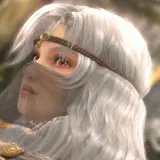 Nambo Bandai has passed along a handful of new screenshots and a trailer from Soul Calibur V, the latest entry in the fighting series that debuts on Xbox 360 and Playstation 3 on January 31.
The Soul Calibur V screenshots are character-centric, or more specifically, reveal alternate outfits that you'll come across while playing through the game. Characters represented include Cervantes, Mitsurugi, Nightmare, Patroklos, Pyrrha, Siegfried, Viola and Zwei. Click any of the screenshot thumbnails below to view the high resolution version.
The Soul Calibur V trailer sets up the storyline that will continue the Soul Calibur saga into its fifth installment.
Click here to pre-order and secure your copy of Soul Calibur V for Xbox 360 or PS3 at Amazon.com.