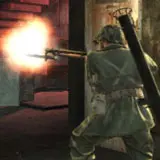 Call of Duty: World at War for PS3 and Xbox 360 will receive its third DLC pack sometime in August.
The pack will include four new maps, one of which will be dedicated to the insanely popular Zombie Mode. "Battery," "Revolution," and "Breach" comprise the standard maps while the Zombie map is called "Der Riese."
Pricing has not been revealed though if this third map pack should follow the $10 / 800 Microsoft Points price point given to the two previous packs.
Check out a trio of new screens from the third map pack below. Click on any of the thumbnails for a large high resolution look.