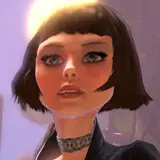 BioShock Infinite is still a ways off but that isn't stopping Irrational Games from slowly feeding us new assets to drool over.
Today's catch is a quartet of high resolution screenshots taken from scenes featured in the previously released gameplay trailer. The screens show off the amazing detail in angel statues, Charles hanging out on a bench, a bloody beaked crow on the attack, and companion Elizabeth looking busty and worried.
Click any of the BioShock Infinite screens below for the high resolution version. BioShock Infinite isn't expected in stores on Xbox 360 and PS3 until 2012.