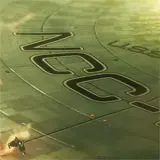 One of the pleasant surprises at E3 2011 was tucked away in the back of a sea of small cubby-like offices. It was there that Paramount Digital and developer Digital Extremes showed off an incredible gameplay demo for a new Star Trek game set within the Trek universe created by J.J. Abrams.
Since then there hasn't been much new information about the promising project, even as Abrams and his crew at Bad Robot began production on Star Trek 2 last month. We knew Bad Robot was involved in the game on some level as they showed up right before my scheduled time to watch the demo and we had to wait for them to finish.
Today Namco Bandai announced that they have picked up the publishing rights for the still untitled Star Trek game and will put it on store shelves in the first quarter of 2013, ahead of the May 17, 2013 theatrical debut of Star Trek 2.
In addition, it has been revealed that God of War writer Marianne Krawczyk is penning the story, set between the two Abrams' films, with the help of Bad Robot screenwriters Roberto Orci and Alex Kurtzman, who served as writers and producers on both Abrams Trek films. The game is a cooperative experience with Kirk (Chris Pine) and Spock (Zachary Quinto) using their own unique strengths to help each other out.
No platforms have been announced, but the press release does mention the game will play on "this console generation." It should appear on Xbox 360 and Playstation 3 at minimum; however, a Wii U appearance is looking unlikely based on that wording. We won't know until more information is released, hopefully at E3 2012 in June.
Check out a new Star Trek game screen below, as well as the first one released last year.