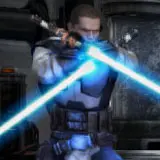 LucasArts' Star Wars: The Force Unleashed II (2) is a game whose October 26, 2010 release date for Xbox 360, PS3, PC, Nintendo Wii and DS should be a fixture on your radar. Any evidence you need to sway you from the contrary is included in the trailer, b-roll footage and 10 screenshots below.
In The Force Unleashed II, Starkiller returns to do the evil bidding of Lord Darth Vader. After a double-cross, Starkiller finds himself on the run while Vader attempts to clone the young warrior in hopes of creating the ultimate Sith apprentice.
From what we can see via the screens and footage, The Force Unleashed II will visit a number of familiar Star Wars prequel-era settings including Cato Neimoidia, the street levels of Coruscant and cloning operations on rain-drenched Kamino. Traditional stormtroopers and Tie Fighters return, while a host of new enemies are introduced including a number of spider-inspired droids.
If you only have time for one of the videos below then please watch The Force Unleashed E3 trailer (the first one). This is how I had imagined the Star Wars prequels turning out.
> >
> >