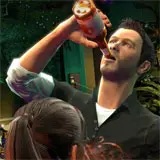 Midway has released another trio of screenshots for This is Vegas, a new intellectual property coming to Playstation 3 and Xbox 360 sometime next year.
We can't help but think Midway is pushing a little T&A with these screens. I dunno… what do you think? What jumps out at you? Gameplay or waxed hineys?
In This is Vegas, players will assume the role of a man who must fight, gamble (illegally even), drive and party his way into returning Vegas to the adult playground it's meant to be. An open world sandbox and adult-themed content will definitely give a Grand Theft Auto IV feel to the game, while the Vegas-esque scenery and missions like bartending, dancing, fighting, and wet t-shirt contests will provide something entirely new.
We'll have more on This is Vegas after we go hands-on (pun intended) at E3 later this month.