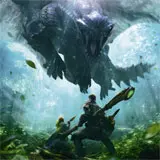 Capcom has released their E3 2014 assets for Monster Hunter 4 Ultimate, the next iteration in the Monster Hunter franchise that is coming exclusively in 3DS in North America after the calendar flips to 2015.
This new dump of assets includes a Monster Hunter 4 Ultimate E3 2014 trailer as well as 19 screenshots, all of which are accessible below. The screenshots all feature monsters from various angles, which is not surprising to anyone who has played a Monster Hunter game before.
Capcom and Nintendo haven't announced a definitive release date for Monster Hunter 4 Ultimate just yet, but I'd like to think we'll see it sometime in the first half of 2015.