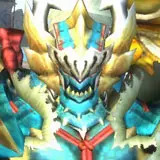 It's time to get out your whetstones and to mix up a few potions, as Capcom today announced that Monster Hunter 3 Ultimate for the Wii U and the Nintendo 3DS will be released to stores in North America on March 19, 2013, and Europe on March 22, 2013, with a demo coming several weeks earlier.
Monster Hunter 3 Ultimate is an enhanced version of 2009's Monster Hunter Tri originally released on the Nintendo Wii. The new game features not only high definition graphics, but also a massive stable of new and classic monsters to hunt, as well as new lands, quests, and even a new partner, Kayamba, to join the hunter and Cha-Cha as they scour the countryside looking for behemoths to take down for glory and for resources to build bigger and better weapons and armor.
MH3U can be played alone or with up to four players online with the Wii U, or four friends locally via the 3DS, or even a combination of up to three 3DS systems and one Wii U. Any way you look at it, the hunt is on!
Monster Hunter 3 Ultimate will be offered in both retail disc and for digital download for both systems. The Wii U version will include full voice chat functionality, as well as USB keyboard support. Created hunters can also be transferred between the Wii U and Nintendo 3DS systems for full hunting and questing on the go.
Capcom will release free playable demos for both the Wii U and the 3DS on the Nintendo eShop on February 21, a solid month before the full version is released. In the meantime, gorge yourself in the Wii U and 3DS Monster Hunter 3 Ultimate box art, screenshots, and a new trailer below.