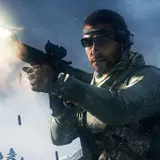 Looking for some FPS warfare prior to Call of Duty: Black Ops next month? Electronic Arts' Medal of Honor, which is being compared to the Call of Duty franchise in impressions and reviews, has been deployed for Xbox 360, PS3 and PC.
EA has shared a series of 10 new screenshots to coincide with Medal of Honor's release. They might as well be called "fire and ice" based on the arid and frigid environments on display.
Click any of the screenshot thumbnails below for a high resolution version of each.
Shop for Medal of Honor on the platform of your preference at Amazon.com.