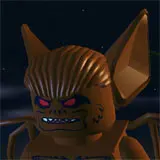 The latest villain to join Lego Batman the videogame is the hairy and unscrupulous Man-Bat.
In the game he'll be able to fly and use his sonar to see in the dark, though his daytime vision is severely impaired.
An expert in biology with a specialty in bats, Doctor Kirk Langstrom hoped to cure his growing deafness by creating a serum that would give him a bat's ability of echolocation, which allows those creatures to use sound to navigate in the dark.
However, the serum had an unforeseen side effect, reacting with Langstrom's genetic makeup to transform him into a man-sized bat. The serum also robbed Langstrom of his intellect, and he went on a crazed rampage, terrorizing Gotham City until Batman was able to reverse his transformation. Langstrom, unwilling to give up on the serum, injected himself again soon after, and turned once more into Man-Bat. After kidnapping his fiancée, Francine, he injected her as well, and she too became a half-human/half-bat hybrid. Batman again stopped Man-Bat, restoring both Langstrom and Francine to humanity.
Lego Batman will be available for Xbox 360, Playstation 3 and Nintendo Wii, amongst others, on September 23.
Pre-order Lego Batman on the system of your choice at Amazon.com by clicking here.