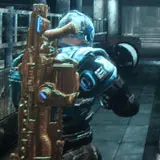 Today we finally got our hands on Gears of War 2 for Xbox 360 and with it a redemption code to unlock the now infamous Golden Lancer gun, available exclusively as a unique single-use redeemable code in the Limited Edition set.
Digging deep into the campaign and multiplayer matches will have to wait until tomorrow, unfortunately. I did mange to take some time this evening to unlock the Golden Lancer and see what it's all about.
The 25-digit code included in the Limited Edition set is entered like any other redemption code via the Xbox Live Marketplace blade, at least for another two weeks or so until the new Xbox experience launches.
Once the 108kb file is downloaded, the Golden Lancer becomes available in all multiplayer modes including Horde and training. This coverage is a good thing, too, as we couldn't get any adversarial matches to connect properly and had to resort to training to put the Golden Lancer into play.
Does the Golden Lancer do anything a standard Lancer can't? Not that I can tell. It seems to shoot the same, use the same chainsaw and inflict the same damage as a standard Lancer. But it sure looks "purty" being aimed ahead or stored on your player's back.
The other unlockable golden gun, the Hammerburst, is available only by visiting Gamestop Thursday night at midnight and attending a special midnight madness event. At this event you'll be given a unique "one use and done" code, like the Golden Lancer's, to unlock the second golden gun.
Below are some pics of myself installing and checking out the Golden Lancer in Gears of War 2. These pics were shot of Gears of War 2 on an Xbox 360 Elite connected via HDMI on my 112″ front projection system used for reviewing games and Blu-ray films at a resolution of 1080p. They aren't perfect given the lighting and movement challenges, as well as my rudimentary photo skills, so please excuse the varying clarity.
We'll have our Gears of War 2 full review ready in the coming days.
– Dan Bradley