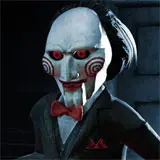 Saw fans will be happy to hear that Konami has finally formally announced the game is coming to PS3, Xbox 360 and the PC. With the first details come an unexpected tie-in to the film series.
The Saw game will put players in the role of detective David Tapp whose partner and friend has already been offed by Jigsaw between the first and second films. Via a third-person perspective, players must battle Jigsaw's henchmen and escape traps — some new, others from the films — to defeat Jigsaw and escape.
The game's story is developed by Zombie Studios and the creators of the Saw franchise, Leigh Whannell and James Wan. By setting the game after the first Saw film, the writers have been able to wrap up loose ends and character fates from that film as well as reveal Jigsaw's previously unknown motives.
Here are some of the official features in Konami's words.
Traps of Lethal Cunning – Jigsaw has laid out a gauntlet of torturous traps for a handful of innocents. Only you stand between them and the most brutal death imaginable. Think quickly and act! The clock is ticking.
Choices of Conscience – The player is forced to make difficult moral choices. Who lives and who dies in the game is determined by the player's choices.
An Ecology of Terror – The asylum in which Jigsaw has trapped you is abandoned, but it is far from empty. It is a living world of horror populated by Jigsaw's minions and the insane souls they torture… and they have no intention of letting you leave.
Saw for PS3, Xbox 360 and the PC is due in stores this fall. Click on the thumbnails below to view the first screenshots available for the game.