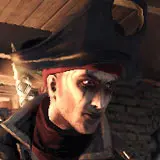 Lionhead Studios' Peter Molyneux came through on his promise and unveiled Fable 3 / Fable III at X10. With the unveil comes the first gameplay footage, new screens and early details on some of the innovations Molyneux and his team are bringing to the franchise, including true two-player coop play.
Fable III takes place approximately 50 years after the events that unfolded in Fable 2. You will ascend to either King or Queen or Albion to lead your people to prosperity or face a revolution against your tyrannical rule.
Fable III's expression system introduces a new feature dubbed "Dynamic Touch." This allows your character to literally reach out and touch someone so they can see your true self as defined by your actions. Those same actions will affect the visual look of your weapons and canine companion as they dynamically evolve throughout the game.
Get a glimpse of these new features and more in the Fable III trailer / developer diary, then scroll below for new screens (click the thumbs for high-res versions). Fable III is scheduled for a holiday 2010 release.