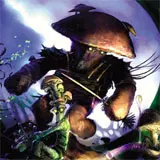 Indie publisher Gamecock has released a new batch of screenshots and cover art for Mushroom Men: The Spore Wars.
In Mushroom Men, players will take on the role of diminutive beings brought to life from vegetation after a mysterious comet strikes leaving a green dust in its wake. The world around the Mushroom Men is oversized along the lines of Honey I Shrunk the Kids.
Mushroom Men use spores to take on the likes of spiders, deadly praying mantises, lightning-fast scorpions, enemy Mushroom Men and other adversaries.
The true power Mushroom Men yield comes from utilizing the "SCAV" system that allows them to build weapons from everyday objects.
Mushroom Men: The Spore Wars is coming to Nintendo Wii sometime in November.