Today Disney Interactive made their ambitious video game and toy hybrid project Disney Infinity official, almost 18 months after Activision and Toys For Bob first announced Skylanders: Spyro's Adventure and unintentionally gave birth to a new genre of gaming.
At first glace Disney Infinity looks like a Skylanders concept ripoff. Using a device called the Infinity base that looks like a pancaked Portal of Power, players can place their Disney and Pixar figures – seventeen are expected to be available at launch – onto it and watch them magically come to life in the game. It's pretty straightforward and nothing you haven't seen before.
From here is where Disney Infinity and the Skylanders franchise start to differ dramatically. Infinity is built around two different gameplay patterns. The first involves one of several "Play Sets" that are geared toward a particular Disney or Pixar property. Think Skylanders Adventure packs. At launch there will be three playsets available: Pirates of the Caribbean, Monsters University and The Incredibles. You can bet additional playsets will follow at later dates.
The catch with the Play Sets is that only characters from the same franchise can play with them. For example, you cannot take Mr. Incredible or Sully from the Starter Pack and play in Pirates of the Caribbean. You can, however, enter that playset with Captain Jack Sparrow. Think of the Play Sets as exclusive campaigns attached to that properties characters.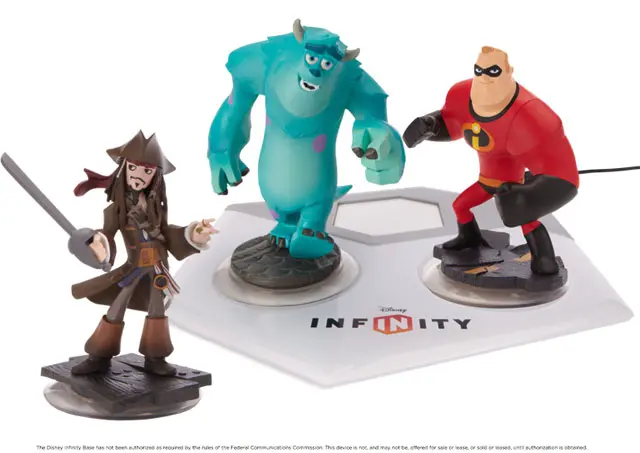 Characters from the various Disney licenses will get to mingle and play together in the Toy Box. As its name implies, this mode is an open world full of challenges and items to unlock, such as vehicles. Even more impressive is a Minecraft-like ability within the Toy Box that allows gamers to build their own worlds and share them with friends (after moderation) ala LittleBigPlanet.
Also part of Disney Infinity are physical power discs that act as power-ups for whatever character is placed on top of them. This is a departure from the Skylanders model where power-ups are attached to the individual toy. With Disney Infinity, they are shared and not exclusive to any one character. There will be twenty power discs available at launch. Unlike Skylanders, Disney Infinity supports online play and compatibility across pla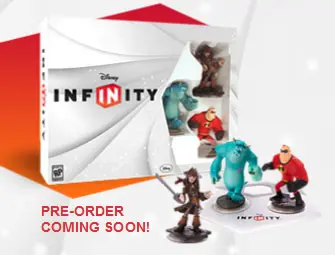 Disney Infinity is designed to support two-player cooperative play in the Play Sets and up to four players in the Toy Box. Unlike the Skylanders games, you can play both modes cooperatively online, something Skylanders fans have been begging for and yet to be rewarded with.
The scary thing about Disney Infinity is in the pricing. I'll do a comparison with Skylanders at a later date, but here's the breakdown as it stands now:
Starter Pack (with 3 figures): $74.99
Play Set Pack: $34.99
Disney Infinity Figure: $12.99
Figure 3-Pack: $29.99
Power Disc Pack: $4.99
Again the breakdown for launch is 17 figures, 3 Play Sets, and 20 Power Discs.
I always thought Nintendo would be the first company to jump on the toy and game hybrid bandwagon but am just as happy to see Disney not only make a "play" for it, but do so with an incredibly ambitious project. The possibilities for expansion are truly "infinite." They can dip into the Princesses, Star Wars and even Marvel licenses. They can package exclusive figures with DVD and Blu-ray releases, or offer limited edition figures that can only be purchased at the theme parks. They can hand out an exclusive figure or Play Set at movie openings.
If the Toy Box concept derived from Avalanche Software's Toy Story 3 game takes off like it has the potential to and Disney Infinity, Toys For Bob and Activision will need to step up their game for the anticipated Skylanders 3 announcement at next month's Toy Fair in NYC.
Disney Infinity is coming this June to coincide with the theatrical release of Pixar's Monsters University prequel film. The starter pack with game will be available for Xbox 360, Playstation 3, Wii U, Wii, 3DS and the PC, and a mobile tie-in experience will be rolled out throughout the rest of the year. All figures, Play Sets and Power Discs are compatible across all versions of the game.
Watch the Disney Infinity announcement trailer and view a collection of high resolution screenshots from the game below.