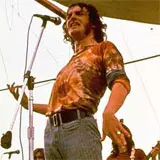 August, 1969. Almost 500,000 gathered in Bethel, New York to speak with a collective musical voice, forever preserving the spirit of the sixties generation and creating, through performances by some of the best artists of the time, "three days of love and music" that would come to represent their spirit and belief they could change the world into a better place. It was an age of idealism, with a true commitment to their mission as the generation of change, forged in the midst of the Vietnam War and an era of materialism and bigotry they completely rejected. Woodstock became their message, a concert event unique in the history of concert events, never again equaled in its message, spirit or its intensity.
The 40th anniversary of Woodstock has given Warner Home Video incentive to revisit the original Oscar-winning documentary Woodstock: 3 Days of Peace and Music film and release it for the first time on Blu-ray Disc (with a simultaneous DVD bow) in an all-new director's cut presentation adding approximately 44 additional minutes to the film. Though arguably not the penultimate Woodstock experience it is, to date, the most comprehensive and technically accurate representation of the festival ever made available on home video.
All the excitement and authenticity of original performances from acts like Joe Cocker; the Who; Crosby Stills, Nash and Young; Alvin Lee and Ten Years After; Janis Joplin; Jefferson Airplane; Jimi Hendrix; Lesley West and Mountain; Joan Baez; and Ritchie Havens, to name some of the artists who performed, continues to pack the punch and deliver the message they originally did.
Complimenting the performances, footage shot to capture the mechanics of setting up the stage and grounds and maintaining the flow of such a huge event combines with footage that captures the mood and behavior of attendees to create a picture of what it was like to actually be there. Some of the language and behavior is raw and uncut, a true reflection of the freedom of expression attitude that dominated the sixties generation. It is unlikely that attendees of any subsequent music concert ever got naked in the mud or made love in the bushes without police intervention, all caught on film.
Everyone will approach this documentary movie with a different focus. Some will see the film as a vehicle to immerse themselves in the mood of the times and the festival, some will be more interested in musical performances by classic artists, some will look for the generational message, but none will be disappointed.
Woodstock: 3 Days of Peace and Music has been remastered and scanned at 2K, retaining the extensive segments of split-screen footage that makes the documentary so unique while presenting the standard segments in letterboxed 2.20:1. The result on Blu-ray Disc in 1080p via a VC-1 encode blows the previously released DVD edition out of the water and is fantastic considering the often rainy and dark shooting conditions the film crew experienced over three days. Colors are now much stronger, detail sharper and print damage minimized as to not detract from the film. The image is still slightly desaturated and soft compared to modern films but will please nonetheless.
Eddie Kramer, the original Woodstock sound engineer, assisted in remastering the new footage's audio to 5.1 channels presented in lossless Dolby TrueHD on Blu-ray. However, the reality of live performance sound reinforcement in an age that preceded the technical ability to reproduce studio quality sound on stage cannot be overcome. This is readily apparent in all of the performances, and those who are looking for the kind of audio clarity and depth that defines more recently filmed concerts where state-of the art sound reinforcement gear was used will not find it here.
In addition, field recording technology then was not what it is today, consisting of analog eight track recording equipment rather than digital recording technology. When the mix does expand into the rear channels, the effect is more blunt than subtle with a random voice talking or crowd roar coming from behind. Viewed as a whole, the new mix is eminently respectable and will be pleasing, if not perfect, to the most discerning ear.
Woodstock on Blu-ray is packaged as an Ultimate Collector's Edition in a unique gift box, numbered as part of a limited run with an array of collectibles that include reproduction festival memorabilia, a miniaturized 60+ page reprint of the 1969 Life magazine commemorative issue, a lucite lenticular display of vintage festival photos housed within glass, and an iron-on patch with the dove and guitar Woodstock logo. The chotzkes are fun for the diehard Woodstock fan but not reason enough to shell out for this U.S. version versus the international standalone director's cut movie release.
All supplemental features are presented on a second disc. Resolution is high definition via VC-1 and audio support varies from 2.0 Dolby Digital to 5.1 Dolby TrueHD depending on the supplement.
Behind the Story: The Museum at Bethel Woods: The Story of the Sixties and Woodstock (4:34, HD) – This short feature is nothing more than a promotional vehicle for the museum, opened in June 2008 to commemorate the Woodstock Festival and the generation that made it possible. There is a short tour showing some of the artifacts from the Festival and some of the interactive exhibits, brief interviews with museum attendees both young and older and information on the amphitheater built as part of the museum complex.
Woodstock: Untold Stories (Approx. 2 hours, HD) – This area of the disc is the most exciting of them all and does provide reason the Ultimate Collector's Edition is the top choice to purchase. It consists of 18 original performances in 5.1 Dolby TrueHD by Joan Baez, Country Joe McDonald, Santana, Creedence Clearwater Revival, the Who, Jefferson Airplane, Joe Cocker and Johnny Winter, among others, that did not make it into the original documentary film and have never before been seen by those who weren't actually there. This is a major plus for those who did not get enough of the music during the film and are hungry for more.
Unfortunately, performances of some well-known artist-defining songs were either not filmed or not included in this bonus feature, for example, "Somebody to Love" and "White Rabbit" from Jefferson Airplane, "Proud Mary" from Creedence Clearwater Revival, "Piece of My Heart" and "Ball and Chain" from Janis Joplin, "Spinning Wheel" from Blood, Sweat and Tears and "Hey Joe" from Jimi Hendrix. I understand that you can't cram three days of continuous live performances into a four hour film, even if you include two additional hours of performances as a bonus feature
If the performances of these well-known classics exist on film and are not being held up by rights issues, I would love to see Warner either consider them for a 45th or 50th anniversary release. Another option considering the advent of BD-Live might be to borrow the Xbox 360 and Playstation 3 download model of offering new songs in "packs" for a small fee.
Untold Stories also includes a "customize your own Woodstock play list" feature, which allows for the selection of all or some, in any order, of the 18 additional performances into a personal jukebox so you can hear what you want in the order you want to hear them. An option is also present to save a created playlist for future access.
Concluding Untold Stories are short snippets Opening of the Festival (3:21, HD) and Closing of the Festival (1:20, HD) that quickly document what their names imply.
Woodstock: From Festival to Film (1:16:42, HD) – Multiple featurettes are available to view collectively or broken down individually. They document behind-the-scenes efforts that went into organizing and producing the film, from pre-production through making the film to post-production and editing and working with Warner to achieve the a final product acceptable to the filmmakers. Most of the footage consists of interviews and recollections from Michael Wadleigh, Director, and Dale Bell, Associate Producer, with additional recollections from artists, crew, and attendees, including Assistant Director and Editor Martin Scorcese.
The "trip" through these featurettes begins with a discussion of the camera used to make the film and ends with a discussion of the Woodstock legacy and impact. There is a little something for everyone and probably something else that draws no interest in between, making the decision by Warner to allow access to the featurettes individually a welcome and appropriate one.
To date, the director's cut is the most comprehensive version of Woodstock: 3 Days of Peace and Music available. Factor in roughly two additional hours of performances only this Ultimate Collector's Edition offers and there is no reason to look elsewhere for a cheaper option. Woodstock looks and sounds as good as can be expected on Blu-ray. While more footage is always wanted and sought after, what Warner has put together to celebrate the 40th anniversary is, like the festival, unique and never to be recreated.
– Bill Bradley, Guest Contributor