Sam Stone has, time and again, got himself into situations that defy all logic, and each time, he's been armed to the teeth and has always been able to shoot his way out of trouble when it finds him. And it always finds him.
In The Serious Sam Collection for the Xbox 360, Croatian developer Croateam has collected each episode of the legendary game into one fully realized collection for the first time, and in glorious HD.
Players get to experience the story from the very beginning, as Sam is whisked through time to stop the extraterrestrial, Mental, and his minions from wiping out all of humanity. What started as an engine demo back in 1996, the series pioneered a ton of feature found in the modern FPS gaming experience. In fact, playing The Serious Sam Collection reminds me of playing multiplayer games of Halo, which is a testament to ground broken by the series' long life.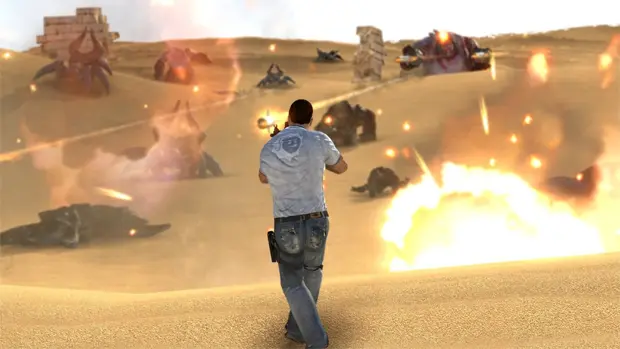 The collection contains Serious Sam: The First Encounter, Serious Sam: The Second Encounter, Serious Sam: BFE (or before first encounter), and Serious Sam: Double D XXL. The disc also contains all of the DLC for each game and really makes for a pretty stout package when measured against other high-profile FPS games–most of which run on a single campaign of six-to-eight hours.
Up to 16 players can play together in campaign, and there are versus modes like Deathmatch and Beast Hunt to keep the fun going.
The High-Def transition of the game is done really well, and Sam has never looked, or sounded this good. It runs at 60FPS with ease and even with some technical issues in the BFE chapter, the package as a whole works.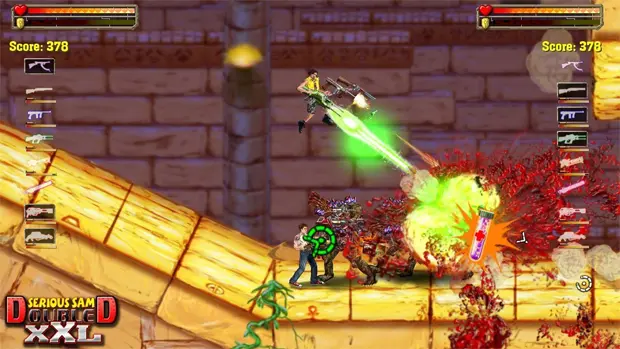 There are tons of unique weapons to unlock and use, and enemies spawn regularly, which at times makes the early games a little challenging. Game modes include single player and co-op, and there are worldwide leaderboards to compare scores and a ton of achievements to collect.
The Serious Sam Collection is a ton of FPS gaming all shoved onto one disc (or digital download through the Xbox Arcade). The collection serves as a historical trip through time–not just in the game's story–but also in the evolution of the First Person Shooter. At a decent price, and with so much content, The Serious Sam Collection is a worthy addition to every gamer's library.
The Serious Sam Collection is exclusive to Xbox 360 was provided by Maximum Games for this review. It was released on July 16, 2013.