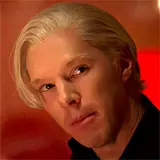 In September of 2013, the controversial website WikiLeaks released a version of the screenplay to the movie The Fifth Estate, which chronicled the creation and evolution of the website. Along with the screenplay, the website also released a "Talking Points" memo. The documents were not released to give the movie additional publicity. The documents were released to show that the production was from their perspective "irresponsible, counterproductive and harmful." Had they seen the movie beforehand, they could have also included the terms "overstuffed, underdeveloped and dull."
Benedict Cumberbatch (Sherlock) stars as WikiLeaks founder Julian Assange, but the main character of the movie turns out to be Daniel Domscheit-Berg (Daniel Bruhl), one of Assange's former collaborators. Berg is a journalist who meets the white haired, charismatic Aussie in 2007 at a conference. Before long, Assange convinces Berg to help him build a website devoted to releasing secret information to the public while keeping its sources anonymous at the same time. That site, of course, becomes WikiLeaks.
As the website gains stature, Berg begins to have his doubts about Assange, who he really is and what his real intentions are. Is he an opportunist or an underground journalistic crusader? The strain in their relationship comes to a head when hundreds of thousands of documents on the Afghan and Iraq wars are leaked to the website. Assange wants to release the documents to the world immediately but Berg wants to review them first.
Watching The Fifth Estate is about as exciting as watching people typing on laptops, which is what Bill Condon's dull docudrama largely consists of. Unfortunately, they're not typing up a decent screenplay. Cumberbatch and Bruhl give their characters their best shot, but they are defeated at every turn by Josh Singer's inept screenplay. It's rife with thin characters, ridiculous dialogue, zero dramatic tension and a refusal to dig into the more controversial aspects of Assange's life, which gives a talented ensemble absolutely nothing to work with.
When the film isn't crawling along with sections of people sitting around bringing down The Man with their computers, Condon attempts to jumpstart the film's pulse with loud techno music, quick edits and visual trickery. Throughout the film, Berg envisions WikiLeaks as a Matrix-esque virtual newsroom that is as ridiculous as it sounds. Condon also attempts to give the film a global conspiracy thriller vibe by moving the action between Europe, America and the Middle East, which only provide (respectively) a travelogue, an unnecessary subplot and a good half hour of embarrassment to actors Laura Linney and Stanley Tucci.
High-Def Presentation
The Fifth Estate comes packaged as a combo release with DVD and Digital HD, and includes a slipcover. Disney presents the film in 2.4:1 1080p video that is as spot-on as it can possibly be. Given the narrative is very "talky" with limited action and motion, this would have been a tough transfer to mess up apart from diluting the blacks, which did not happen in the least.
The 5.1 DTS-HD Master Audio track is tasked with presenting the aggressive score and dialogue clearly, and it does both in spades. To keep things lively where the majority of scenes are set indoors, there's ample ambient sound bouncing around.
Beyond the Feature
Bonus features are slim in number and stature, which is not at all surprising given the box office struggles The Fifth Estate endured while Assange publicly mocked the film. What's deflating about the extras is they all delve into the technical process of making the film, but not at all into its accuracy or objectives.
Scoring Secrets (9:11, HD): Score discussion with composer Carter Burwell.
The Submission Platform (10:25, HD): Visual effects discussion.
In-Camera Graphics (6:25, HD): More visual effects discussion, only this time how to achieve desired effects without CGI.
Trailers and TV Spots (6:34 total, HD)
Various Trailers for other Disney Releases
Does The Fifth Estate present Julian Assange as he really is? It's hard to say. Until Julian Assange sits down and does a 128-minute commentary stating his side of the story, we'll never know what the truth is and what was made up. I doubt we'll ever see Assange do that, which really isn't a bad thing. His refusal to set the record straight would save me from having to sit through this movie ever again.
Shop for The Fifth Estate on Blu-ray for a discounted price at Amazon.com (January 28, 2014 release date).