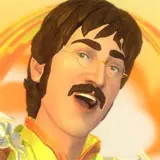 The Beatles: Rock Band is a testament to the Fab Four's enduring legacy, designed so the band's aging fan base can and their children can "come together" where another era of music and modern technology collide. It is as much a new way to interact with The Beatles music as it is a history lesson in the band's rise and fall told through wonderfully imaginative moving montages and some of the most beloved music every recorded, much less playable on a set of plastic faux instruments.
The game's story mode begins at The Cavern Club in 1963 and progresses through a number of notable venues including The Ed Sullivan Theater, Shea Stadium, Budokan, Abbey Road recording studios, and culminating atop the Apple Corps headquarters in the final The Beatles public performance. Each venue has been faithfully recreated for the game with screaming fans and police on guard for the live performances, and trippy surreal animated "Dreamscapes" for the Abbey Road years distinct and unique to each song.
Working through the story makes apparent The Beatles: Rock Band has been blessed with care and attention unseen in the music gaming genre. From the "Dreamscapes" worth sitting songs out to watch and enjoy to the spinning menu animations to the story montages, the presentation is 100 percent Beatles and a grand effort by Harmonix to make the game feel unique compared to other Rock Band or Guitar Hero entries. Beatles-philes will even find never-before-heard studio chatter preceding each Abbey Road song.
At its core, The Beatles: Rock Band plays identical to Rock Band 2 so Harmonix has introduced three-part harmony vocals via three separate microphones. This new feature allows bands of up to six players to play along on a single song. What it does not allow, unless you go out and purchase microphone stands, is for the guitarists or drummer to be one of the vocalists. Believe me, I gave it a try pinning the microphone under my armpit with laughable results.
Additional Beatles flair is added with "Beatlemania" to keep the crowd pumped up during stretches of songs, as well as "Fab Solos" and "Triple Fab" to go along with guitar and vocals, accordingly. Though welcome and necessary additions to induce immersion, they feel more like renamed Rock Band power-ups than anything new and fresh. For the best The Beatles experience, enlist a little help from your friends rather than tackling the game solo.
There are only 45 total songs or a little more than half a typical Rock Band or Guitar Hero release in The Beatles: Rock Band that makes for a surprisingly quick journey through the story mode either locally or online with friends. Looking beyond the numbers, most players stick with a small selection of songs from those games while Beatles fans are likely to revisit the entire play list repeatedly. At least three complete albums are confirmed as downloadable content in the near future so the seemingly small song list is designed to grow.
Once the story is completed, Chapter Challenges by venue and unlocked photographs of the band are the next logical stop. Another great place to visit and extend the game's longevity is Beatles Beats for Drums, in which you painstakingly learn to play over 80 of Ringo's famous beats 1:1 without any other instruments interfering, and Vocals Practice Mode to work on mastering the three-part harmony.
Picking up a Rock Band guitar, bass, drum sticks or microphone and "playing" along with Eight Days a Week, Lucy in the Sky With Diamonds, Something or Get Back is as close as many of us will ever get to stepping into the shoes of John, Paul, George or Ringo. Though short on customization and the story mode, The Beatles: Rock Band is high on style and substance making it a must-own product for The Beatles fans and a bold new direction for the Rock Band franchise that will be hard to top.
– Dan Bradley
Shop for The Beatles: Rock Band on Xbox 360, PS3 or Nintendo Wii at Amazon.com.