Terminator Genisys Review: (Re)Boots Deep In The Stink [Spoilers]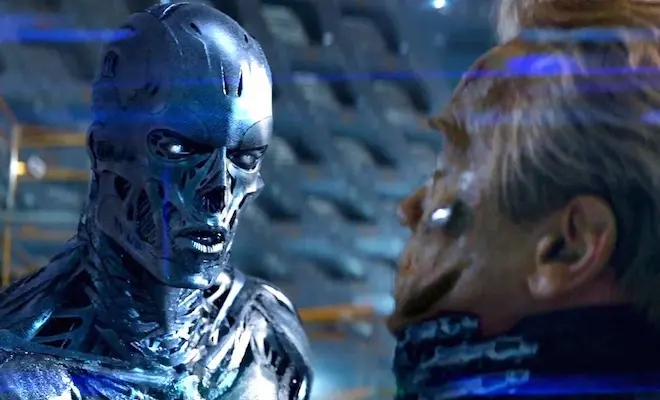 To fully understand Terminator Genisys, you must first take everything you have ever learned about time travel and throw it out the window. Second, you have to completely disregard the world and story foundations of the first two James Cameron-directed Terminator films. Lastly, you have to be a previous fan of Jai Courtney. Once you've done all of that, maybe, just maybe, you can find something to enjoy here. But if you enjoy good sci-fi time travel stories, love (at least) the first two Terminator films, and have ever sat and wondered how or why Jai Courtney keeps getting roles in 80s-action film sequels/reboots, then Terminator Genisys may very well make you angry.
It sure made me angry.
The ideas behind Terminator Genisys are sound. Change the timeline to effectively create a reboot. It worked for J.J. Abrams' 2009 Star Trek, so why shouldn't it work here? It's because the script by Laeta Kalogridis and Patrick Lussier is simply awful. I could only imagine that in their writing process, they had a huge cork board with various colored strands of yarn trying to create a viable timeline to tell their story. After four previous films (and a TV series) they must have given up and thrown the cork board away, as anachronisms and infallible plot holes rule the day here.
Warning: There are MAJOR spoilers ahead, as to fully explain why Terminator Genisys doesn't work, it must be dissected and the plot (holes) have to be explained.
Terminator Genisys actually starts out strong, as we open in 2029 before the battle of Los Angeles, the battle which turns the tide in the war between humans, led by John Connor (Jason Clarke) and Skynet. As we all know, Skynet realizes it's in trouble and sends a T-800 Terminator unit back to 1984 Los Angeles to kill John Connor's mother, Sarah Connor (originally played by Linda Hamilton, now played by Emilia Clarke — no relation to Jason). John Connor sends his right hand lieutenant, Kyle Reese (Jai Courtney, replacing Michael Biehn) back to stop him.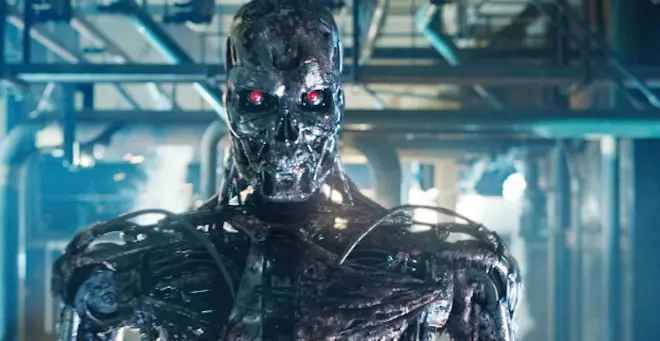 When we get to 1984, director Alan Taylor (Game of Thrones, Thor: The Dark World) painfully recreates James Cameron's original scenes, including using a new actor with a CG face of a young Arnold Schwarzenegger, but when Reese gets to town, things start to go awry. Instead of trying to find a waitress and protect her, he is attacked by an LAPD officer (Byung-hun Lee) who happens to be a T-1000 model of Terminator last seen in 1991's T2: Judgement Day. As Reese runs for his life, he is saved by Sarah Connor herself, now a militant working with an older model version of the T-800 (true Schwarzenegger), who has also just dispatched his older/younger version of himself. Now all three must contend with the T-1000 and his liquid metal form.
The problems in Terminator Genisys begin here and as the entire mythology of the popular film series unravels, all previous knowledge of time travel is cancelled out. It seems that Skynet has been working overtime in trying to protect itself, and tried to kill Sarah Connor when she was nine-years-old, but someone sent the T-800 back to that timeline to save her, and they have grown up together, as the T-800 — affectionately named "Pops"– has been training Sarah since then for the coming apocalypse. I'll stop taking about this now, as it is never again mentioned in the film about who sent Pops back and why.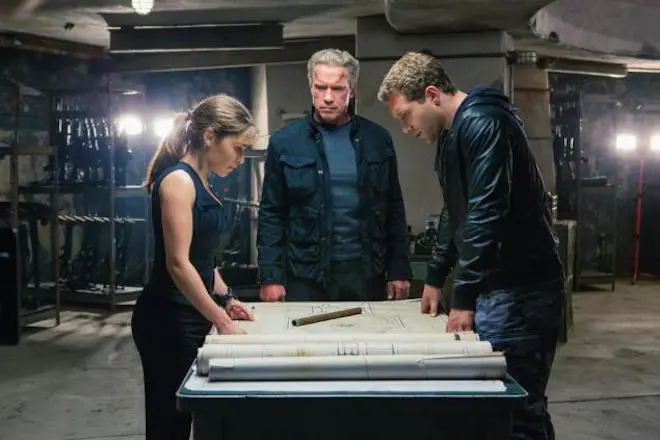 Somehow, Sarah and Pops have built their own time machine in 1984 and plan to use it to shift ahead to 2017 San Francisco to stop Skynet from coming on-line. This opens up a whole new can of anachronisms and logic-defying conundrums that firmly rip the film — and the whole Terminator franchise — off the rails and cascading down a deep ravine.
As seen in the commercials (so you can't blame me for spoiling it), John Connor (from the 2029 timeline) is now in 2017 — and he's now a Terminator. A half-human, half-robot hybrid. He was sent back to protect Skynet and help with its design with inventor Miles Dyson (Courtney B. Vance) and his son, Danny (Dayo Okeniyi), who have created a new massively integrated OS named Genisys that will connect the world much like Apple's iCloud. But Genisys is actually what wipes out humanity when it goes live. My guess is that is locks up smartphones, laptops, and tablets, making humans so angry that they kill each other. It — much like many other things in Terminator Genisys — is never really explained.
There are some good things here. Arnold's take on the older, kinder, T-800 is bad ass when he needs to be and is sometimes funny — without feeling forced — and the bond he shares with Emilia Clarke's Sarah felt genuine. Sadly, it is almost ruined by Taylor's insistence that the original Brad Fiedel synth score be used every time Pops appears. And J.K. Simmons' character, O'Brien, who, as a LA beat cop in 1984, witnessed the first tussle between Reese and the T-1000, and for some reason is now a SFPD detective, is a fun derivative to the shenanigans going on around him, but he is sadly under-used and ends up hanging around in the background until the script needs him to open a door or spout exposition to fill in what has happened in the 33 years between 1984 and 2017.
Jai Courtney once again proves that he's not cut out for this type of movie. He has zero chemistry with Emilia Clarke, and his bickering with Pops gets old really quick — much like the age jokes. Courtney also helped ruin the Die Hard franchise, so maybe he's the Ted McGinley of 1980s action film sequels/reboots. Might as well cast him in the next Predator and Alien films so he can ruin those too.
Jason Clarke still hasn't found the right role to truly show his acting skill. He feels out of place here, and I'm not convinced he will ever be the A-list star that somebody in Hollywood desperately wants him to be.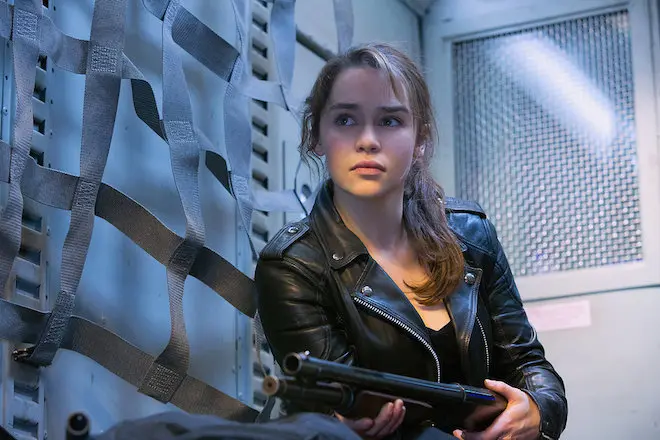 The biggest problem with Terminator Genisys is that after the scriptwriters reset the timeline, putting the onus now on John Connor as the ultimate bad guy of the series (he does help create Skynet, after all), the whole future could easily be saved by Reese and Sarah simply not hooking up to "make" John. And judging by the lack of any heat between the two actors, that could easily be achieved if they both just go their separate ways, or even if Pops would have killed Reese, which would have been wonderful.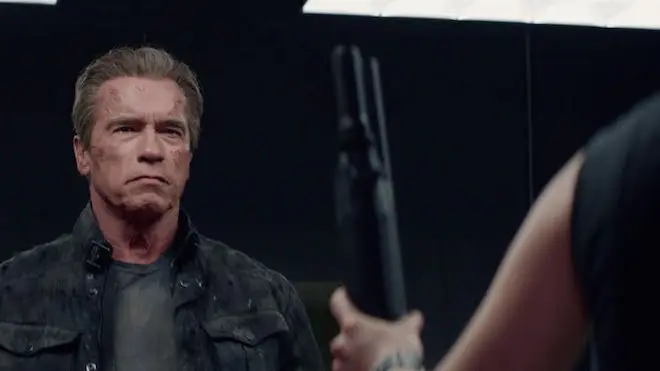 All in all, Terminator Genisys is a mess of a film that sets out to reset the franchise, but instead takes a giant steaming dump over all of it and what is left is a corpse of a franchise that has seen some really incredible science fiction ideas born from it, but is now just a toilet used by mediocre filmmakers and writers to flush cliches and tired tropes for the sake of cashing in on nostalgia.
Terminator Genisys is rated PG-13 and is in theaters now.
TheHDRoom may be paid a small commission for any services or products ordered through select links on this page.