Super Smash Bros. 3DS Review: An Instant Classic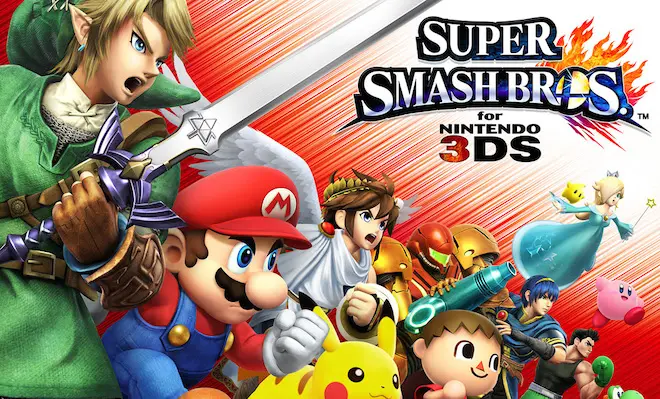 Super Smash Bros. is quite possibly the greatest game franchise Nintendo has ever come up with. The series takes different video game characters–mostly from Nintendo–and puts them into one game with the objective to beat the crap out of each other. It was SSB that virtually saved the Nintendo GameCube, and the Wii version still remains one of my favorite games on that system.
It's a simple concept and the controls are easy to master. Anyone at any level can join in and throw down with friends, pitting Mario versus Link, Peach versus Zelda, and even Little Mac from the Punch Out!!! series versus Kirby, the pink bubble-thing that devours everything it comes across. And you know what? Kirby would win that fight. That's the beauty of Super Smash Bros.
In the new version for the Nintendo 3DS, new fighters are added–including Sonic the Hedgehog and even Pac-Man, and the battle stages are perfectly selected to give variety. There are so many fighters, including a whole bevy of hidden characters to unlock, that any game lover can find a fighter that suits their tastes. Each fighter has up to 12 special moves to use, which is absurd. The moves are character specific and the final smashes for some of the fighters are amazing to pull off. Also, the 3DS Miis are playable for the first time, with three different styles (brawler, gunner, and sword fighter) and each is customizable with new masks/hats, outfits and weapons that are unlocked as players progress through the games incredibly deep selection of game modes.
Gone is the sublime Subspace Emissary mode from the Wii version, replaced here with a mode called Smash Run, where players are cast into a maze-like level full of all of the classic Nintendo baddies, all mixed together including space pirates from Metroid teaming up with the Egg Plant Wizards from Kid Icarus and joining huge Goombas from Super Mario Bros. all to try and stop the player. The levels are timed and defeating enemies causes stat boosts and other assorted goodies to drop. After the five minutes are up, a final battle occurs and the player can use the stat boosts to have the fight of their lives. It's a fun mode, but no where near as fun and exciting as the Subspace Emissary mode was on the Wii. There are also modes like Smash (simple pick up and fight), classic mode (where a player can take a character through a gauntlet–with adjustable difficulty–to face the dreaded Master Hand at the very end), and various neat mini games like the home run derby and trophy rush.
All star mode is my new favorite as players choose a fighter and then play though levels of opponents taken from the history of video games. Pac-Man and Mario and Donkey Kong are in the first battle, newer characters like Wii Fit Trainer (from the Wii Fit game) and Roslina from Mario Galaxy are in the higher levels. This mode is enjoyable for longtime video game fans. In fact, I've been playing Super Smash Bros. now since the day of release and I'm not sure I've seen and done everything yet. That's a butt-load of content. And we haven't even talked about online yet.
Yes, there is an online fighting mode. Players choose between fighting just for fun or for glory and between friends only or random. The game makes matches and the smashing begins. There is one huge problem, however, and that is online lag. I've yet to experience a game that didn't suffer from lag, or even a smooth connection to the servers (it usually takes a few tries to find a stable environment). Once you get going, everything is fine. Well, save for the lag, but it affects each fighter so it doesn't benefit one fighter over the others. I have actually been K.O.'d as lag hit while trying to save myself after falling off a ledge, and it was incredibly annoying, but it's happened only once in almost two weeks of online battling. This is online, on-the-go Super Smash Bros., and it works for the most part.
The graphics in Super Smash Bros. are some of the best ever for the 3DS. It feels like cel-shading, but the amount of detail–with or without the stereoscopic 3D turned on–is astounding. The levels and stages are well thought out with little references to their source games. In the Tortimer Island stage from Animal Crossing, a great white shark swims off the coast and it will eat a fighter unlucky enough to be smashed off the island. In the New Super Mario Bros. level, there are hundreds of coins to collect, and even a P Block and red ring to jump through, all the while fighting other players. It's pure chaos.
The graphics and music are just icing to an already delicious cake. And Nintendo and Sora, the developer, have already put into place an interface to share customized players with the upcoming Wii U version. To put it as simply as possible, Super Smash Bros. for the Nintendo 3DS is easily one of the best titles on the handheld. There is so much content included in the package and so many fighters and stages and trophies to unlock and costumes and power ups to find that I find myself playing this more than any other game. And it's portability even lets it go into the bathroom with me. So, if you've ever played me online, yes, I may have been doing other things while fighting.
Super Smash Bros. for the Nintendo 3DS is a revelation. It is designed for the veteran smash players as well as newbies who have never used Samus to beat the crap out of Pikachu. It's a celebration of all that is Nintendo and of video games in general. I've laughed, I've got upset, I've been amazed, and I've been humbled and I keep going back for more. This game has been in my 3DS now for almost two weeks, and I'm not sure what will challenge it to make me stop playing. Super Smash Bros. for the Nintendo 3DS is that kind of game.
Super Smash Bros. for 3DS was reviewed on Nintendo 3DS and purchased at retailer. It is now available for the Nintendo 3DS and Wii U.
TheHDRoom may be paid a small commission for any services or products ordered through select links on this page.