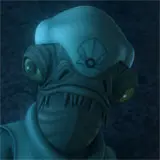 According to Jedi Master Qui-Gon Jinn, in the Star Wars universe "there's always a bigger fish."
Riff Tansom is that fish in the one-hour premiere of Star Wars: The Clone Wars season 4, a watery affair that brings together a collection of notable species and deadly new villain as the muscle behind Count Dooku's latest attempt to absorb another planet into Separatist control. It's a familiar story for the Clone Wars, but the first to take place almost completely under the sea since Kit Fisto lead an underwater battle in Genndy Tartakovsky's brief 2003 animated Clone Wars series.
In this new conflict, the Mon Cala are adjusting under an inexperienced young leader, Prince Lee-Char, after their former leader was murdered. The Quarren, unwilling to trust the leadership abilities of the young Prince, are goaded into war with the Mon Cala by the treacherous Tansom with Count Dooku calling the shots from a safe distance. Jedi Anakin, his increasingly more mature Padawan Ahsoka, and shirtless Kit Fisto, along with a battalion of scuba Clone troopers, get caught up in the conflict.
Tansom, like his tactical counterpart Captain Akbar making another Clone Wars debut, is introduced in a political setting and initially come across as the "shark guy" that's all bark and no bite. His features and voice are reminiscent of Bruce the Shark from Pixar's Finding Nemo. As we all know, Bruce never really caught the meal he so craved.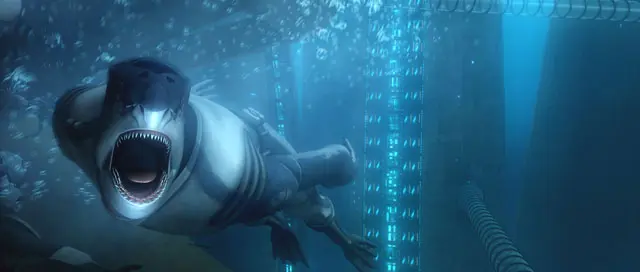 When Tansom joins the big brawl, he transcends those initial impressions in a flurry of devastation. Like Sith apprentice Asajj Ventress, he's a killing machine who, using his multiple layers of razor-sharp teeth versus a lightsaber, lays waste to anyone even remotely within his range. The genetically-enhanced sharks in Deep Blue Sea would be jealous of Tansom's speed and killing efficiency. There's no bargaining with this Separatist who brings some legitimate horror to the story arc.
Large-scale multi-episode battles have launched every new season of The Clone Wars thus far, but this is the first where there's no clear indication of how a resolution will be reached after reaching the two-thirds mark. The battle is in full swing by the end of 'Water War,' the first episode, and the Republic forces and Mon Cala are on the ropes by the end of 'Gungan Attack.' I have no idea where the third and final piece of this story is headed aside from Prince Lee-Char's obvious arc, and that's a credit to the writing team delivering an unexpected cliffhanger.
Gungans aren't the most adored Star Wars characters and yet there's plenty of Gungan-speak and even some jokes in 'Gungan Attack.' If you can stomach a few moments of Jar Jar antics and "Meesa" this and that, the fourth season of Clone Wars and its fishy new villain lives up to the season's 'Battle Lines' name.
– Dan Bradley