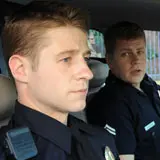 Fans of the promising Los Angeles-set crime drama Southland were devastated last fall when NBC dropped the show while it was filming its second season. Fortunately for the fans, cable channel TNT stepped in and will begin broadcasting the series tonight with a commercial-free presentation of the original pilot that includes six minutes of previously unseen material. All-new episodes will follow this March.
The series chronicles the lives and work of the Los Angeles Police Department's officers as they patrol the city and try to keep the peace. In the earliest episodes we follow rookie cop Ben Sherman (Ben McKenzie, The OC) who is fresh out of the Academy and has been assigned to work under the supervision of the gruff and intimidating veteran John Cooper (Michael Cudlitz, Band of Brothers).
The pairing of the young and idealistic newcomer to the force with a seasoned and cynical old hand is something of a cliché in the police drama genre. Here though it is done well, largely thanks to a superb performance from Michael Cudlitz as Officer Cooper. Required to make cynical statements and to spend much of this first episode mocking Sherman, the character could easily have become a parody of itself. Instead Cudlitz shows us a man who has a cold and harsh exterior but who is more than he initially appears.
The relationship between Cooper and Sherman is not the only familiar element present in Southland. There is the cop whose marriage is on the rocks, the cop with substance abuse issues, the cop who sleeps around and the female cop who is trying to survive her misogynistic colleagues and advance her career. Fortunately while characters do match familiar TV cop archetypes they are better rounded and, as the series goes on, are each given opportunities to show other dimensions and character traits.
In an era of television in which police dramas have a tendency to focus on the technology used to solve a case instead of on the characters investigating them, Southland is a refreshing return to a more classic form of character drama. The series is as much about the relationships between the characters as it is about solving the crime.
Much like other current character dramas such as Mad Men or Damages, Southland does not attempt to make its leads appear appealing or heroic. Nor does it attempt to moralize or force a message onto its audience. Instead it lets its characters exist on screen and allows us to make up our own opinions about them and the actions they take.
Adding to Southland's ambiguity is effective and often unnerving camera design which jerkily follows the action, sticking to close and medium shots in a documentary style. By not using establishing or long shots and by cutting quickly, scenes are given an uncomfortable immediacy as we find ourselves associating closely with the officers. This not only elevates the tension in the action sequences but it also reinforces the show's sense of realism.
Building on that sense is Southland's extensive use of location work. Shot on the streets of Los Angeles, the show brings its setting to life and helps us to place the crimes we see in the context of the communities in which they occur. The result is that the city seems bigger and all the more intimidating while we are reminded of just how stretched the officers and police resources are.
While Southland adopts a cold tone towards its protagonists, its scripts do contain considerable quantities of sardonic, dark humor. Much of this is very funny, particularly lines muttered by Officer Cooper, yet on occasion lines and situations seem forced as though present to lighten the otherwise grim tone. Fortunately such missteps are few and far between.
Some might be disappointed that Southland does not stretch our understanding of the police show genre. They would have a point as the series uses many of the clichés found in previous police shows or films. However what makes the show special is its emphasis on building believable characters and giving its audience a sense of the challenges of policing in a city, instead of crime-solving technology or sensationalist plot twists.
The result is one of the most engaging police dramas in recent years, albeit one that seemed to have reached an end prematurely last fall. Its move to cable should offer the show a fresh start and an audience more in tune with its style of dark character drama. Though it won't be for everyone, Southland is entertaining and well-written enough to be worth another look.
– Aidan Brack
Beginning with the Extended, Commercial-Free Premiere Tuesday, Jan. 12, Only on TNT at 10/9c.