For as many Hollywood horror films that there have been in the past few years, it's incredibly few and far between that one is even remotely good, let alone great. It's to the point where almost every new horror film that I see I go into with the lowest of expectations. The genre has become a well oiled machine of over the top gore and jump scares galore and, worst of all, overwhelmingly generic. Then, almost out of nowhere, comes Sinister, and it completely blew me away.
Sinister follows Ellison Oswalt (Ethan Hawke), a True Crime novelist that has moved his family into a new home in order to work on his next book. What he neglects to tell his family is that the house they have moved into was the scene of the horrific crime that he is writing about.
Not long after moving in to the home, Ellison discovers a box in the attic containing a film projector and several Super 8 Films. These films not only contain footage of the gruesome murders that happened in their new backyard, but also contain several other grizzly images of murders over the years. This discovery sends Ellison on a downward spiral trying to determine not only the connection between the films, but also who was filming them. To top it off, the house has started making weird noises and bizarre occurrences are happening, hinting at something far more frightening that might possibly tie in to an age old fairy tale.
In this world of generic horror films being churned out left and right, Sinister is a near revelation. What so many filmmakers don't understand, and fortunately Director Scott Derrickson does, is that mood and tension is far more effective than rampant jump scares. The opening moments of the film are jarring in their horror and their realism. Being able to set the tone that early on does wonders for the film, and allows the film to build its terror progressively and naturally, save for a few jump scares here and there which feel totally unnecessary.
Another strong element of the film is Ethan Hawke's performance. Hawke has been doing legitimate film work for quite some time, but his role in Sinister as a once prominent writer who is willing to risk everything, including his and his family's well being, for another taste of fame is equally subtle and enthralling. So much of the film relies on Hawke's reactions and gradual descent into his obsession and he absolutely nails it.
The only real beef I have at all with the film are the jump scares. This isn't even just based on my personal feelings that they are just a cheap way to get a reaction and aren't actually scaring you. It's more about Sinister being a film that doesn't need them. There's so much inherent creepiness in the script and tone of the film that is far more successful in leaving the viewer with that nagging feeling that causes grown adults to leave a light on at night than any jump scare could ever manage. To his credit, Director Derrickson acknowledges the cheapness of jump scares in his commentaries, so at least we're on the same page.
High-Def Presentation
Having seen the film during its theatrical run and marveling at how amazing it looked then, I have been highly anticipating getting to see Sinister in HD. I can honestly say that I was blown away. There is an almost otherworldly sense of clarity to the picture, which is presented in a 1080p MPEG-4 AVC encode. For a film that is almost bathed in darkness, the transfer has an exceptional amount of detail. Colors, while a bit drab in their presentation, manage to pop off the screen. Black levels, which are more than abundant throughout, are eerily natural and definitely help add to the overall atmosphere of the film.
To go along with the film's near perfect video transfer is a DTS-HD Master Audio 7.1 track that will utterly terrify the viewer with its all-encompassing soundscape. Bizarre ambient noise and footsteps fill the surrounds at opportune moments. The score, while exceptionally minimal, fills all speakers as it drifts in and out of moments adding to the overall tone without ever overpowering it. With much of the film being character centric, dialogue is a constant, centered and on full crystal clear display. The low ends are reserved for the film's absolute scariest moments, which make them even more powerful once they kick in. Those looking for a workout of their speaker system, you're in for a treat.
Beyond the Feature
While the disc isn't loaded with special features, what is there is quite impressive. Included on the disc are two separate Audio Commentaries; one with director Scott Derrickson by himself and another with Derrickson and co-writer Robert C. Cargill. The one with Derrickson by himself is a very director-centric one focusing more on the technical aspects of bringing the film to life. The other with Cargill is a little bit looser and focuses heavily on the writing. Both are great and informative, although I lean a little more towards the latter as the pair has a great chemistry together and there's never a lull throughout.
The other notable feature is Living in a House of Death. This featurette takes a look at real life houses that have had horrendous acts committed within them and the possible paranormal energies that have been left behind.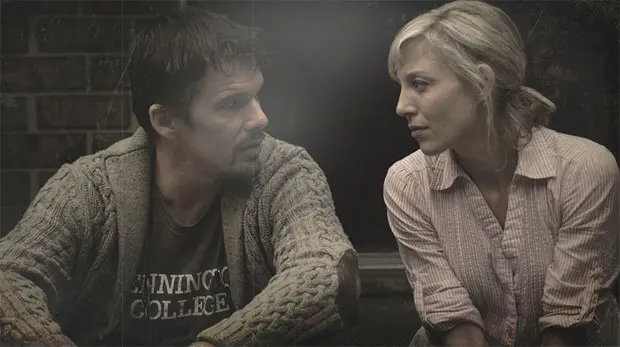 Below is a complete listing of all included special features:
Audio Commentary with Director Scott Derrickson
Audio Commentary with Director Scott Derrickson and Co-Writer C. Robert Cargill
True Crime Authors (HD, 9 min)
Living in a Death House (HD, 12 min)
Deleted Scenes with Optional Commentary (HD, 5 min)
Trailers
Sinister is exactly the kind of horror film I've been waiting for. While the plot of a struggling writer isn't exactly new territory, it gives its themes a chance to breathe and organically become more and more terrifying. It's the kind of film that's scares stick with the viewer well after the film is over.
Complimenting the film is a near reference quality HD transfer and an absolutely perfect sound mix that will please even the toughest of tech junkies. While the special features are sparse, they make up for it with quality.
Sinister is not only one of my top films of last year, but it's one of my first must own Blu-ray recommendations of 2013 thus far. It's horror for smart people, which pleases me immensely. Even if you are not a horror fan, I at least urge you to give this film a chance. Just make sure you've got a night light handy.
Shop for Sinister on Blu-ray for a discounted price at Amazon.com (February 19, 2013 release date).